Mimma Benz has always been generous to us WaWies. She will not hesitate to set aside a portion of her hectic schedule just to be with us, unless she has something important to attend to. You will really see her eyes sparkle with excitement whenever she's with her WaWies and NaWies (Newlyweds at Work). Since we're very spoiled, she's giving us the opportunity to meet some of the wedding industry's best suppliers. Kaya't hindi ko na pinalampas itong second WaW Dinner, because I felt really sad when I wasn't able to attend the first one.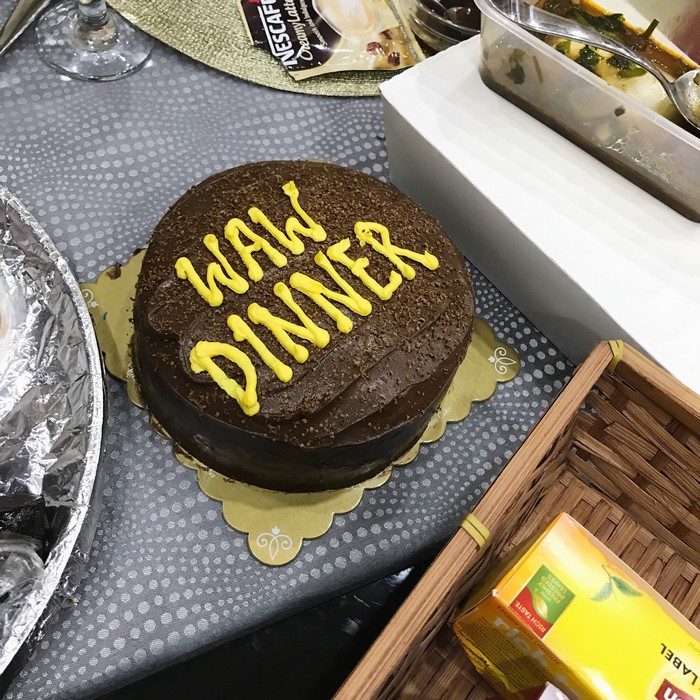 Anyway, just like the first WaW dinner, everyone brought their share of potluck food. We've had crispy pata, buttered chicken, barbecue, pancit malabon, shrimp, kakanin, ice cream, micro greens, and cake! Yum! The wedding supplier hosts this time were Phoeben and Gen Teocson (videographer). They were joined by fellow suppliers Paul Vincent and his wife Ayvih (photographer), and Queen David and husband David (coordinator).
My fiancé and I have never met any of these suppliers before, but we were warmly welcomed like we've been friends with them for so long. Feeling close ako agad sa kanila. Haha! The house was homey and comfortable. We immediately felt at-home as soon as we entered. Can I just say that we particularly loved the sala, dining area, and the restroom with a guestbook? Hahaha.

Once settled, Mimma introduced everyone and the unforgettable dining experience started with the sharing of our love stories.
Kim and Ryan Joseph (RJ) – to marry in December 2018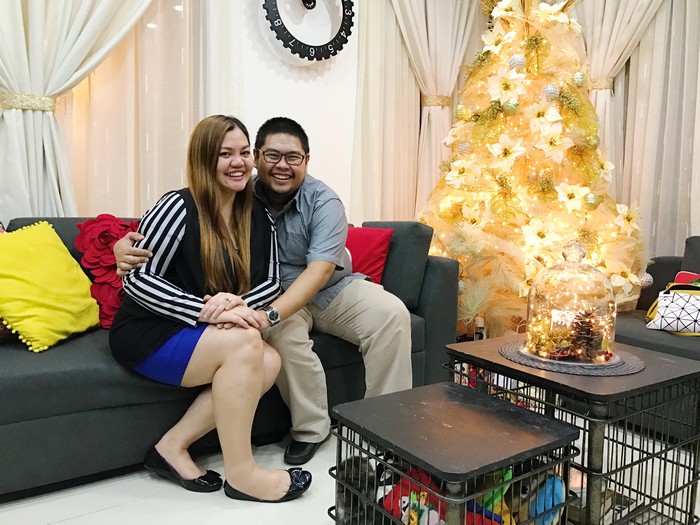 Their love story left us all mind-blown! Peace, Kim and RJ! Haha! Kim admitted that she was the first one who saw RJ ten years ago, and she said she knew – right then and there – that he is The One. Everyone suddenly looked at RJ like he was some matinee idol who got engaged with his number one fan. Hahaha. Their love story is so colorful that we are really glad they made it through the obstacles.
From Kim: "Thanks so much for the dinner we had so much fun and na-appreciate talaga namin lahat ng kwento, words of advice and existential questions posed by David and Phoeben. Hehe!"
Jessa and John Paul (JP) – to marry in July 2017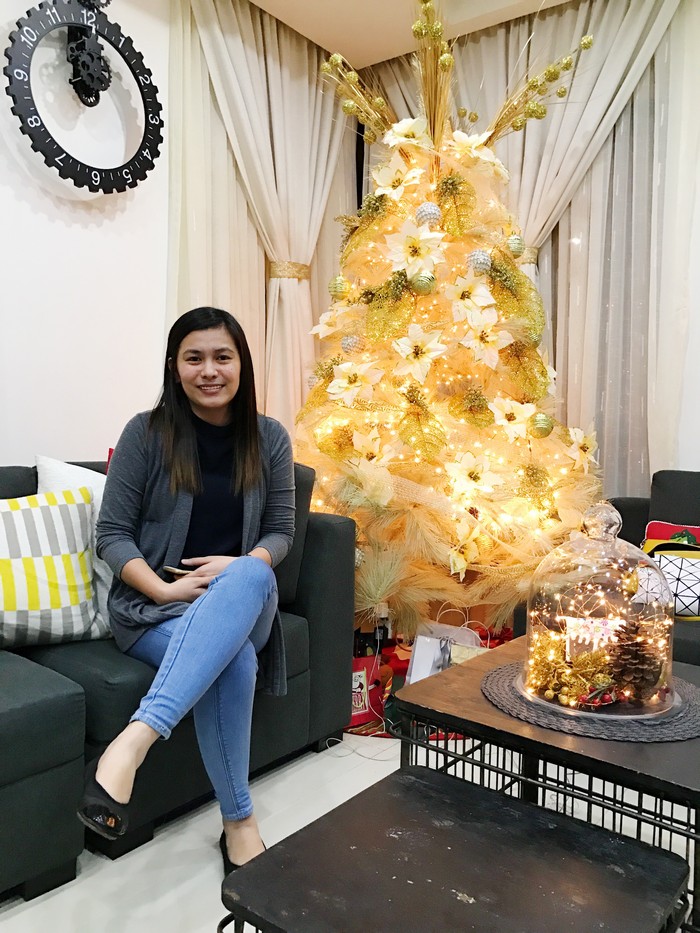 It was unfortunate that JP was unable to join us that night. We were all surprised to find out that JP was the one planning their wedding. Jessa said that it was even him who told her to join WaW. Personally, I find Jessa lucky that her fiancé is actively helping her with the wedding preps. Rarely will you see a guy like him. JP is based in Singapore, and they have been in a Long Distance Relationship for three years.
From Jessa: "Thank you sa lahat ang daming learnings and realizations. Haha! Ang dami kong tanong na nasagot. Ang sarap mag chickahan pag wedding ang topic. Excited na ako for our prenup, ako pala talaga ang mauunang ga-graduate. <3"
Melly and Franz – to marry in February 2018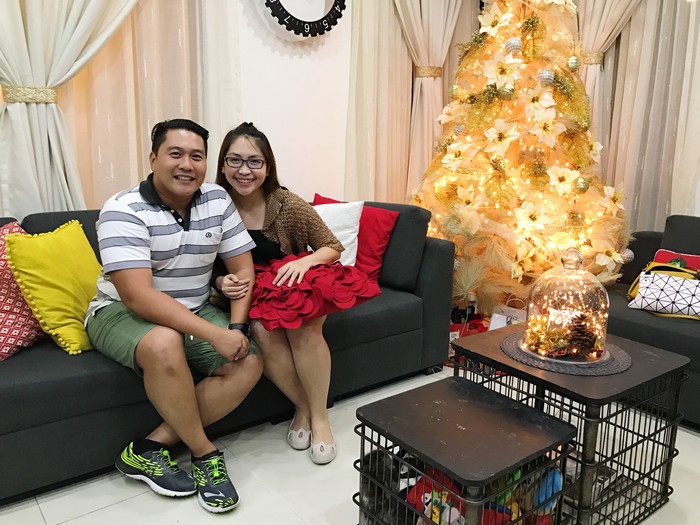 Well, that's me and my fiancé. Haha. We met in a boxing gym eight years ago. Franz told them I was the one who first set eyes on him, but promise siya talaga yung nauna. Hahaha. We've had our share of ups and downs, as well, and we are just grateful to finally be on our road to forever. Naks!
Below were the tips we got from our hosts that night:
(Disclaimer: These are not verbatim statements. They were typed based on how I understood their points.)
On Booking Suppliers:
The teamwork is better when you book suppliers who have previously worked with each other in the past, and have no issues between them.
Booking early can be a pro or a con. Some couples tend to be fickle-minded, and end up spending more money because they keep on dropping and booking suppliers. Research, research, research.
Book suppliers that fit your personalities. No matter how popular and talented the supplier is, if you won't click, you should not book them.
On Prenup/Engagement Photo Shoots:
Get a prenup/engagement photo shoot session because you want to it, and not just because it is part of the package.
No matter how gorgeous you look or how pretty the venue/set design is, if you will not give your 100 percent, then the results will never be as outstanding as you expect them to be.
On Prenup/Engagement Stylist:
You can show your/your stylist's pegs to your photographer/videographer, but do not expect them to do exactly as they were shown. Remember that you are hiring a photographer/videographer because you like their styles.
It is up to you whether you will hire a prenup stylist. Photographers/videographers are capable enough to help you with the conceptualization and direction.
On Wedding Preps:
Keep your communication lines open. The wedding preparation stage will also prepare you for married life, so teamwork is crucial.
On Wedding Invitations:
Set aside budget for extra invitations. Going back to your supplier for additional prints will cost you more time and money.
On Forming Your Entourage:
Never assume that your entourage members are all willing to shoulder the cost of their gowns and/or set aside a day for measurements and fittings. Before including them into your final entourage list, make sure to let them know about your plans and expectations.
On Wedding Day Bloopers:
Let go and stay positive on your wedding day. Everybody will feel your stress. It will show in your photos, too.
On Cocktails:
Invest in cocktails. Never assume that your guests will feel full after the cocktails, and not eat the dinner served to them.
On Making Memories:
Many suppliers love overseas weddings because they are usually more intimate. They remember weddings that are filled with genuine love. Couples, nowadays, tend to focus on making their wedding a big production, and forget about the true meaning of this event: to celebrate their marriage with loved ones.
Your wedding day will move swiftly like a second had just passed. Wouldn't it be nice to spend most of the day bonding with your loved ones, instead of focusing too much on the details? Learn to let go and enjoy the day with your guests.
On Family Conflicts:
It is the responsibility of the couple to inform their families about what will happen on the wedding day to avoid violent reactions and conflicts.
Inform your coordinator ahead of time if there are family issues that they need to know.
Do not be too pushy with what you want, and completely ignore the sentiments of your family/in-laws. Marriage is a buy one, get all. You will marry your spouse's family, as well. Never start your married life with bad vibes, just because of misunderstandings.
On Budgeting:
Couples always overlook the budget for crew meals, and incidentals like bridal car rental extension fees.
Review your contract to check your supplier's crew meal requirement. If it is stated that the meal is already included in the contract price, it usually just covers their dinner. It's best to discuss this with your supplier ahead of time, so you can both prepare for it – especially if you decide to give cash allowances instead of packed meals.
On Ceremony Time:
The groom should arrive 10 minutes BEFORE the invitation time. If your ceremony will start at 3PM, but your invitation time is 2:30PM, then the groom should be there at 2:20PM or earlier.
On Hiring Hair and Makeup Artist (HMUA):
Hire a reliable HMUA. Remember that the day starts with your HMUA. If they arrive late, then the whole itinerary will be affected.
For the entourage hair and makeup, the groom and his family should be the first batch to be made up because they will also be the first group to be photographed.
On Bridal Boudoir:
If you would like to have a bridal boudoir session before leaving for the ceremony, make sure to inform your coordinator in advance, so they can adjust the itinerary.
On Bridal Car:
Rent a bridal car for four hours, instead of three.
On RSVP:
Normally, only 80 percent of those who RSVP-ed attend the wedding.
On Buffer Tables:
Never ever assign guests to the buffer table.
On Dropping Suppliers:
Be honest with them. Tell them the true reason why you are letting them go, and not some made-up excuses.
On Same-Day-Edits (SDEs):
Be yourselves. Huwag yung masyadong scripted. At the end of the day, when you watch your SDE, think about this: "Kayo ba talaga yan?"
Yes, these were the topics that we covered that night, and yet we still felt that the five-hour discussion was not enough. The dinner party was so fun that we had a few more minutes of extra chit-chats outside the Teocsons' house before we finally parted ways. Saying goodbye was really difficult that night, but the memories will forever be part of our lives. Naks!
WaW is one of the reasons why our wedding preps is fun and exciting. We get to meet suppliers and fellow soon-to-weds, and we gain new friendships in the process. Thank you so much to Mimma Benz for coming up with the WaW Dinner idea. We would also like to thank the wedding suppliers who made commendable efforts just to meet us and answer our questions.
We hope that there will be more of these meet-ups in the future. So for our fellow WAWies who have not joined the previous dinners, the experience is totally worth the eyebags and traffic!
*** Story contributed by Melly Ng