Ian Cruz, the videographer,  has been with Shy Duran for 15 years now. They have 2 kids and the plan to marry has long been there but the date and details just didn't fall into place. Last January, when Shy and friends were discussing their Christmas dinner, the discussion turned into jokes and banter for her wedding instead and before she knew it, that was the catalyst that started the wedding planning. The seed had been planted but no moves were made until 3 months before the planned wedding date when they started to seriously put plans into action. By March, Shy freaked out and started seriously working on the wedding. Though the wedding was going to be really intimate with less than 50 guests, there was still a lot to plan.
Once they started, things just fell into place. They got their wedding suppliers eagerly and happily saying "yes" to be part of their wedding. Their wedding date being the day after the election was probably why the suppliers were all available. The couple was also able to ask fellow videographer and mentors Jason Magbanua and Bob Nicolas, to be their ninongs. Sadly, lone ninang Benz Rana was going to be out of the country. The only supplier they were unable to book was Ian's choice for the musician, Johnoy Danao, whose music was supposed to be perfect for their cozy, rustic wedding.
The wedding day finally arrived. Everyone was excited as prep started at 8:00 a.m. at Fundacion Pacita.
Shy shared that she was relaxed during the prep but became sentimental, teary and tense when the ceremony started at 2:30 p.m. and she saw Ian crying his eyes out as the church door opened.
There were no dry eyes in the crowd as well. After the ceremony, cocktails were served at the Bunker's Cafe, near Naidi Lighthouse where the reception was held. Shy said that "it was picture perfect for its exquisite view and thrilled vibe".
What Ian and the guests didn't know was that there was going to be a surprise waiting for them. As wedding coordinator, Ernest Pascual of Bespoke Manila gathered everyone to walk uphill to the reception, they suddenly heard Johnoy Danao's gentle guitar stringing and singing. It turns out that Shy planned all this as a big surprise for the groom. She and Johnoy, together with Ernest, Madge Lejano (make-up artist) and Aze Ryan Ching (the host) kept the secret for a month!
Ernest created a "dapper and chic" reception and table settings with garlands and florets from Vatel Manila. The guests enjoyed sumptuous food served by Cafe Tukon. The details and the program were nothing short of remarkable.
Overall, Ian and Shy thinks that Batanes outdid all their expectations. Everyone was happy and took home many wonderful memories. It was a wedding spent in a breathtaking paradise indeed!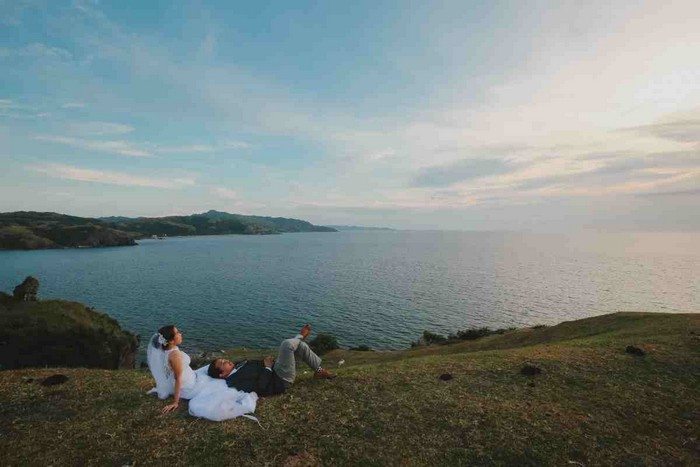 A fifteen-year love story between Philippine wedding videographer, Ian Cruz and his new wife, Shy Duran, finally culminated in an intimate and romantic wedding at scenic Basco, Batanes last May 10, 2016. Check out these photos from Dino Lara & Rex of We do it for Love.
Photos from Dino Lara
Photos from Rex Carrascoso of We Do it for Love
VENUES:
PREP – Fundacion Pacita
CEREMONY – Tukon Chapel (Our Lady of Mount Carmel Chapel)
COCKTAILs – Bunker's Café
RECEPTION – Naidi LIGHTHOUSE
SUPPLIERS:
GOWN – Veluz
GROOM & KIDS SUIT, NECKTIES – Boy Kastner Santos
SECONDARY GOWN – Joe San Antonio
BRIDE'S MAKE-UP ARTIST – Make-Up Studio by Madge Lejano
ENTOURAGE HMUA – Aaron Lejarde
COORDINATION – Ernest Pascual of Bespoke Manila (Styling, Invite, Escort Card Etc.)
MUSIC – Johnoy Danao
FLOWERS – Vatel Manila
WEDDING BANDS – Imelda Jewelry
ARRHAE – Unity Coins
WINES – c/o Francis and Mayone Bakunawa Balbarin
RECEPTION FOOD – Café De Tukon
PHOTOGRAPHY – Dino Lara Photography & We Do It For Love
VIDEOGRAPHY – Ian Cruz Films
HOST – Aze Ryan Ching
BATANES COORDINATION & VANS –  I.B.S Travel & Tour