Around one week before the May 21st surprise proposal of Paul Jake to Kaye, I got a call from celebrity stylist Patty Yap. She was calling since she said, Paul Jake wanted to hire us to cover the surprise birthday celebration for his girlfriend Kaye.
And so when the team of Nice Print was preparing on the day of May 21st getting ready to head to Alabang, I got another call, this time from Paul Jake himself. He said that nobody knew, not even the closest friends that he was going to propose that night! Only Paul Jake, Kaye's dad and brother knew since he formally asked for his daughter's hand.
And so needless to say, Paul Jake told me to make sure it was to be kept a secret! And so the excitement for all of us actually multiplied a 100x.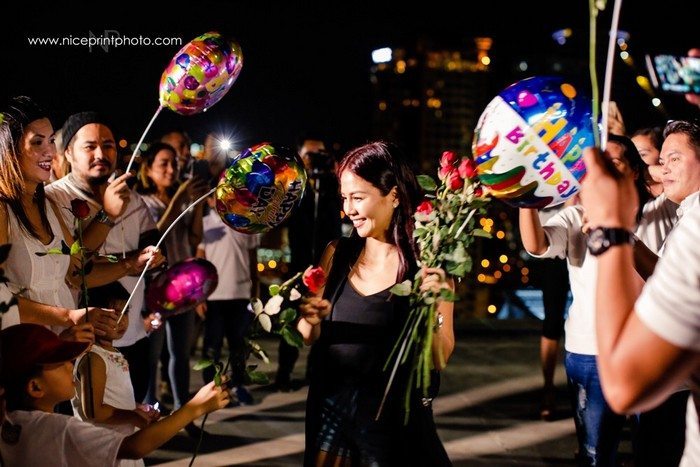 So at the rooftop of a building in Alabang, Kaye walked into the place, and got soooo shocked to see the familiar faces of family and friends. At this point she was already overwhelmed thinking that the bday surprise was the highlight of the night!
As she walked through the cheering crowd, she was given 34 red roses and cupcakes. And the 34th cake had toppers of wedding rings. 🙂 That's when Paul Jake fell on his knee to propose.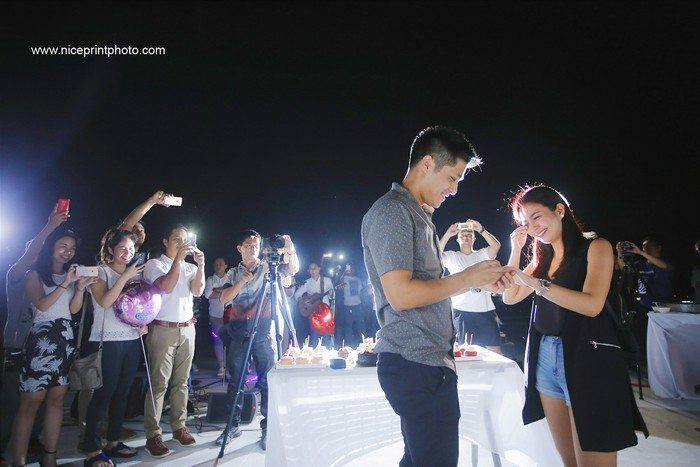 There were no dry eyes in the whole event. Everyone was just shedding too much tears of joy for the newly engaged couple.
After witnessing their engagement, I couldn't help but think how God is truly so faithful and that in His own time, His own perfect time, love finds its way into two people – like Paul Jake and Kaye.
Looking forward to their beautiful union soon.
About Charisse Tinio:
Fan mode on high as WaW columnist, Charisse Tinio, brings us behind the scenes of the latest celebrity weddings. Charisse, the business maven behind Nice Print Photo, delivers the juicy inside info on the entertainment world's newlyweds.

No gossip here. Pure delish celebrity wedding scoop. Read on!