A friend is getting married! Yay!
I've been asked to join the entourage? Yay!
After the initial giddy feelings, you might ask, "What exactly is expected of me as a member of the entourage?"
Allow us to answer your question.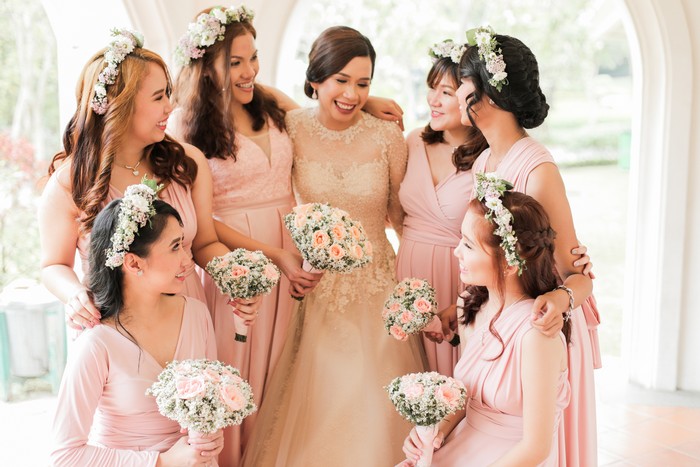 As a member of the female entourage, you are expected to be available for the designated measurement and fitting schedule of the designer (as agreed with the bride). Please avoid being late, asking for a last-minute change in schedule (unless there's a major emergency), or forcing changes in the styles of the clothes assigned to you. Dress the part. You're not the bride, you're a member of the entourage so you shouldn't have a dress that steals the scene from the bride. Otherwise, you'll have a stressed out bride cursing the day she thought of including you in her entourage.
 It is becoming common for brides to ask their entourage to share in the cost or to shoulder the cost of their gowns. If budget is too tight, let the bride know so she can make adjustments in her entourage list. Giving her the cold shoulder or putting her in your "seenzone" list just makes the bride anxious. She doesn't know if you still want in or out. So better to say so as soon as you're told you need to shell out for your dress as your gift to the couple.
Another item in the list for the female entourage would be make-up and hair. The bride may volunteer to source a supplier who charges less. If you have someone else in mind to handle your own make up and hair, do tell the bride right away so she won't get stuck with paying for the hair and make-up of 6 heads when in fact, only 5 will be present on the day. Also, please follow the designated hair style — if everyone has been asked to go "hair down", please don't request your hair stylist to give you an updo. The bride is the star of the show; no one should steal her thunder.
As a member of the male entourage, you may either be expected to produce your own suit/barong or to be available for measurement-taking and fitting. Don't take the fitting schedule lightly, unless, you want a suit/barong that looks like it was made for someone else – too loose or too tight.
While the reception is not as formal as the ceremony, you do need to remember that there's usually an entrance for the entourage. So before changing your clothes, removing your tie, or crumpling up your barong, do ask the coordinators if you need to be in your prescribed attire 'til a certain point in the reception programme.
You will be part of a lot of pictorials – first, at the preps venue; second, at the church/ceremony venue, and if still needed, a third time at the reception venue before the programme starts. So get ready to wake up early, to come on time, and to smile. No need to stress out the bride and groom by complaining about your make-up, your hair, your attire, and the food. No need to also stress out the coordinators by being a bigger baby than the bride or groom. They are there to take care of the bride, the groom, and the wedding plans. They didn't sign up to be yayas of the entourage. Do not ask them to iron your attire, get your shoes in the car, etc. Do not leave as well and make them hunt for you after you've been specifically told of the schedule of the day.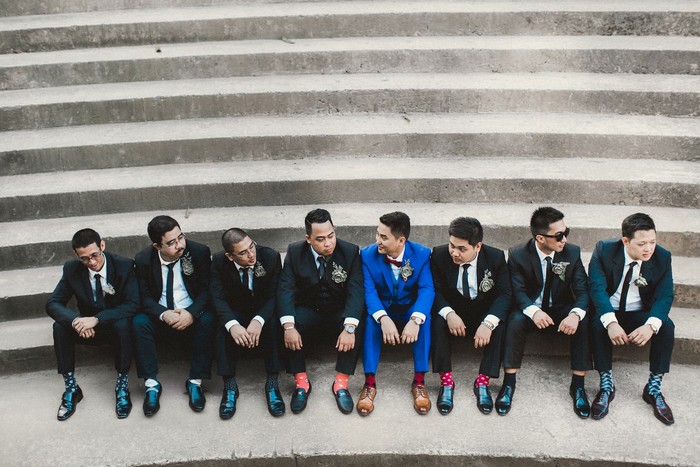 6. You might be asked to give a message/speech. Prepare for it. Don't just wing it on the day. You will sound like you're rambling and you might even cause people to leave. Instead, write your outline. Think of what should be in the message. Is it an inside joke? No need to include it. Is it a story that will make the other side appreciate the bride/groom, by all means include it. When you make an outline and write your speech, you will have time to edit and make sure your message contains only what is necessary and it will be delivered in the most understandable (and perhaps, the most entertaining) way possible.
 7. You might be asked to take on some tasks like distributing favors, inviting others to partake in the activities prepared by the couple, dancing during the entrance, or joining a game. Do participate. Don't be that one person who, because of being a kill joy, destroys the happiness of others. (Note to couples though, please don't ask your entourage to dance if you yourselves won't dance an upbeat number.)
8. You're expected to be present all throughout. It will never sit well with anyone if you will leave right after ceremony or you will leave right after eating at the reception. Tell the bride and groom honestly if you have work on their wedding day or if you can't come home or you're planning to go abroad. That way they can take you out of the list early on – with time to spare for preparing the right attire. Let the couple know as well, if for religious reasons, you are not allowed to participate in their ceremony.
9. Be on time for the ceremony and know your tasks if you've been assigned as candle, veil, or cord sponsor. Don't look like a lost kid in the middle of the aisle or at the altar area. Ask the coordinators if you're not sure of what you're supposed to do. Listen as well to their instructions. The best man and maid of honor will receive instructions as well especially if the church admin is strict or the pastor wants them to take on roles. Listen, listen, listen so there will be no mistakes during the ceremony.
10. You will be sent messages to remind you of schedules or instructions regarding what to do on the day, please respond. Nothing is more impolite than reading the message yet avoiding a response. If you can't handle the tasks at hand, say so. It's more difficult for the bride/groom to ask you straight if you'd rather not be part of the entourage (after you initially said yes). Better to say "no" earlier than later.
Here's something else to ponder: What if you haven't been asked to be part of the entourage? In all honesty, you feel you should be in the list because you're a relative, you're close to either the bride/groom, or your parents are best friends. Please don't talk to the bride/groom or their parents to volunteer to be part of the entourage or to have your child as one of the flower girls/bearers. They are the ones getting married, so they have the prerogative to choose.
It's not easy being part of the entourage. The expectation goes beyond just looking pretty or handsome on the day. There are tasks to be done, requests to heed, and sacrifices to undertake. If you're not willing to be under the sun on the day for pictorials, to wake up early and be one time, or to be present all throughout, please do tell the bride and groom to give the role to someone else who is more deserving of the title. They would appreciate your honesty, believe me. ☺
Read more of Darlene Tan – Salazar's WaW Wedding Tip Sheet articles at weddingsatwork.com/category/waw-wedding-tip-sheet/.
About Darlene Tan-Salazar, [email protected] Supplier of Year (2015):

Darlene started out as a Planner/Coordinator of Perfect 10 Weddings. Since she needed more time for family matters, she opted to focus on emceeing, and has since started "The Wedding Tip Sheet", a Facebook page that tackles the practical points in planning a wedding.