Last November 7, 2015, I was lucky enough to join the team of Thoffy Consulta in a wedding.
Backtrack – Whenever we get together and they share wedding behind-the-scene stories, I would always jest that I wanna join and see what goes on. Since I could easily be a nuisance, Thoffy picked a wedding where I know most of the suppliers involved. This way, he can throw me to any of them when his team gets busy.
After a few tries, we finally got a date when I was free and the location was convenient.
Yes, we asked permission from the couple, but I was just lucky they said yes as I am pretty sure they had no idea what they are agreeing to.
The day came and I wanted to do a real time update for the feel. I wasnt able to really plan it and just called it #wawundercover which I know is not really an apt name.
Maybe you can suggest a better name?
Let me share with you how it was for me via a photoblog.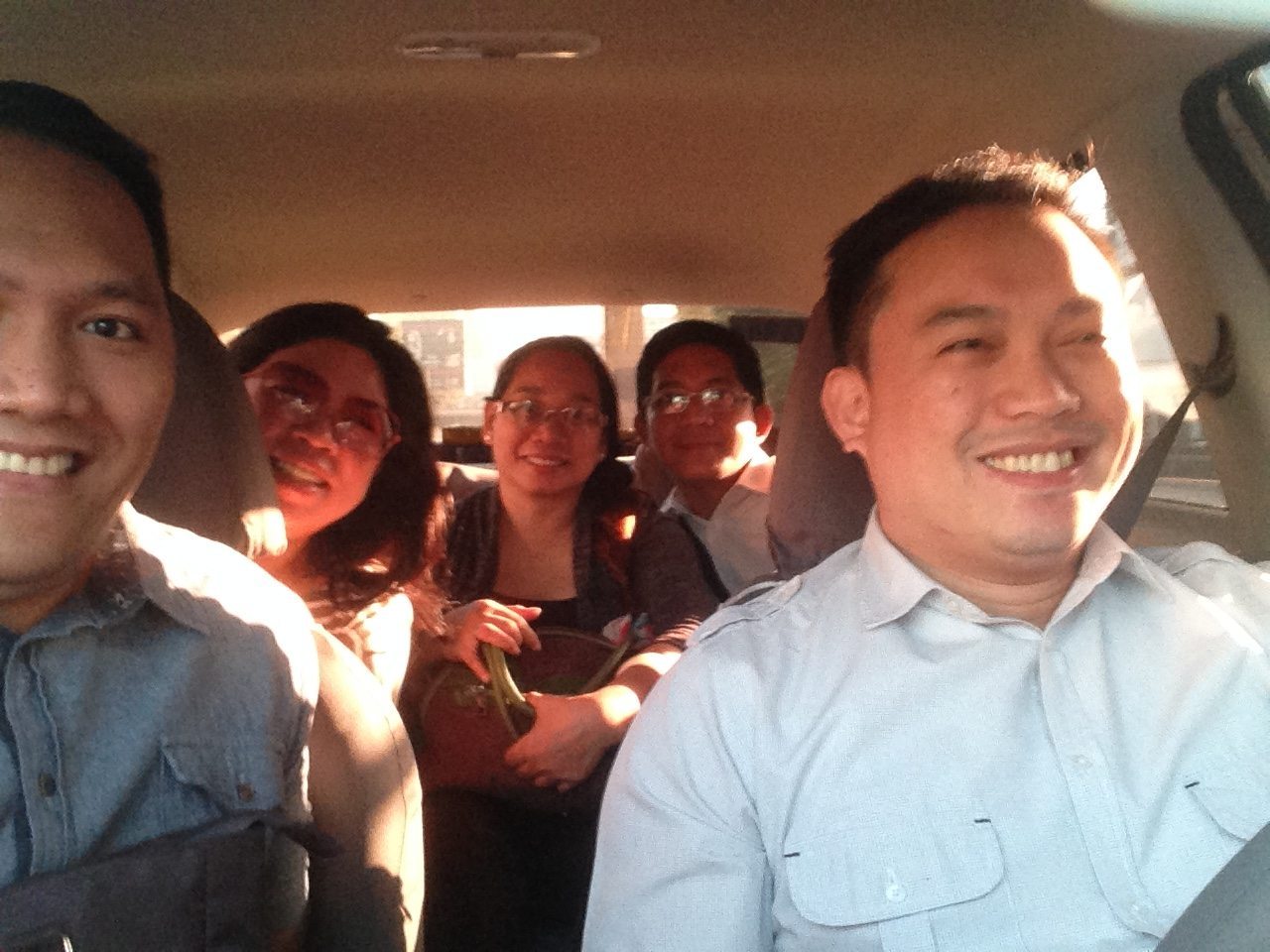 Wedding at 2 PM. Coord Team left 6:30 AM, here nearing prep place na, 8 hours before wedding.
The glam side of being wedding suppliers. Hotel is your normal playground.
Ascott BGC for this wedding.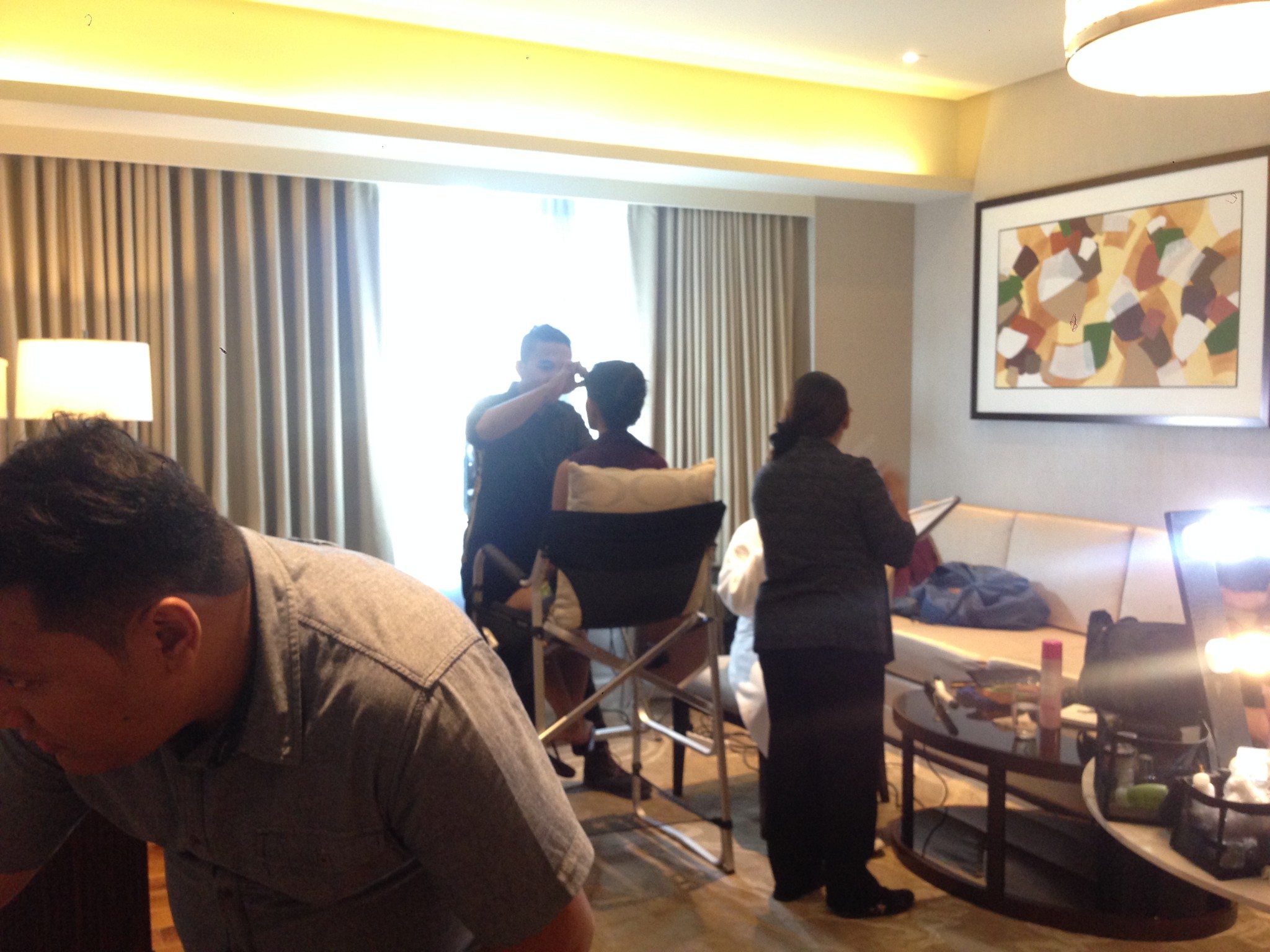 Thoffy's Coord Team arrives at prep 8 hours before the wedding. Make-up team was there and starting already. So much earlier pa sila. The wedding was with Muriel Vega Perez.
*Note: 8 hours is not the standard, may coord na comfy at 6 hours, may iba na 5 hours. It is not the number hours but the comfort zone of each team; being early but inefficient is useless.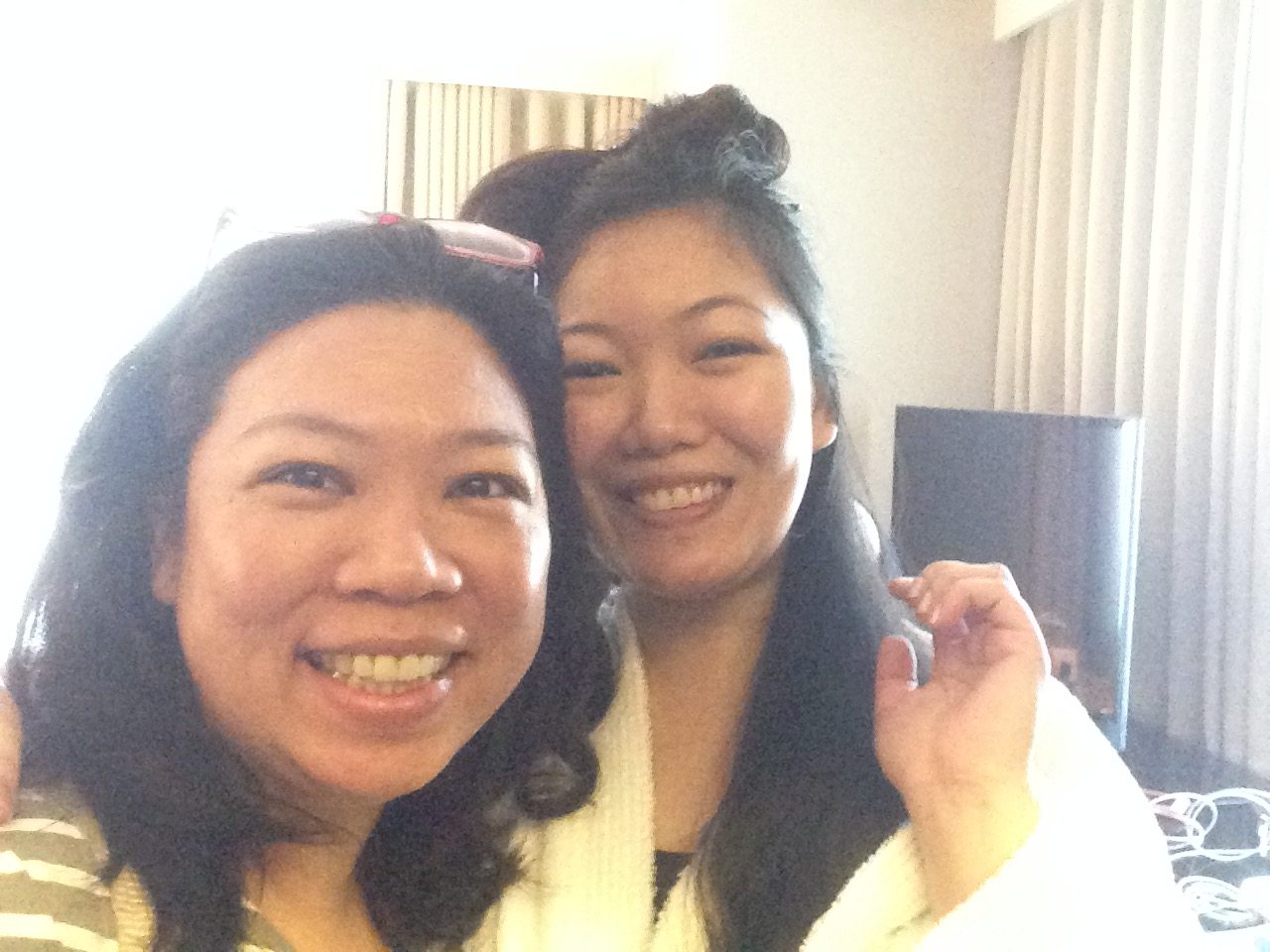 The bride, Lhiza. Excited for her!
Everything today will evolve around making it most special for her.
Thanks for letting me crash, Lhiza!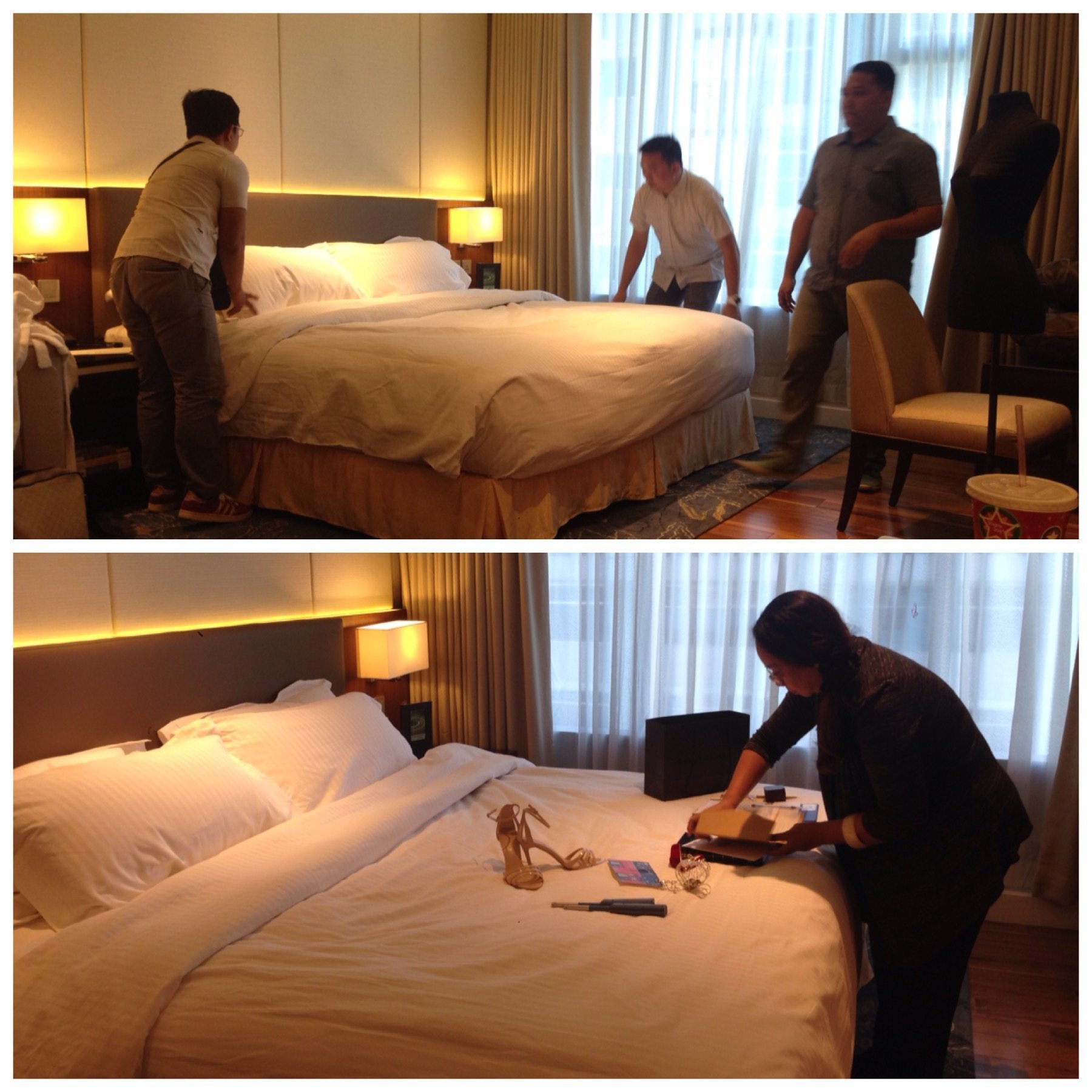 The team prepping the place while ate Thess gets all accesories from Lhiza the bride, then she arranges the prep area for photo and video peeps.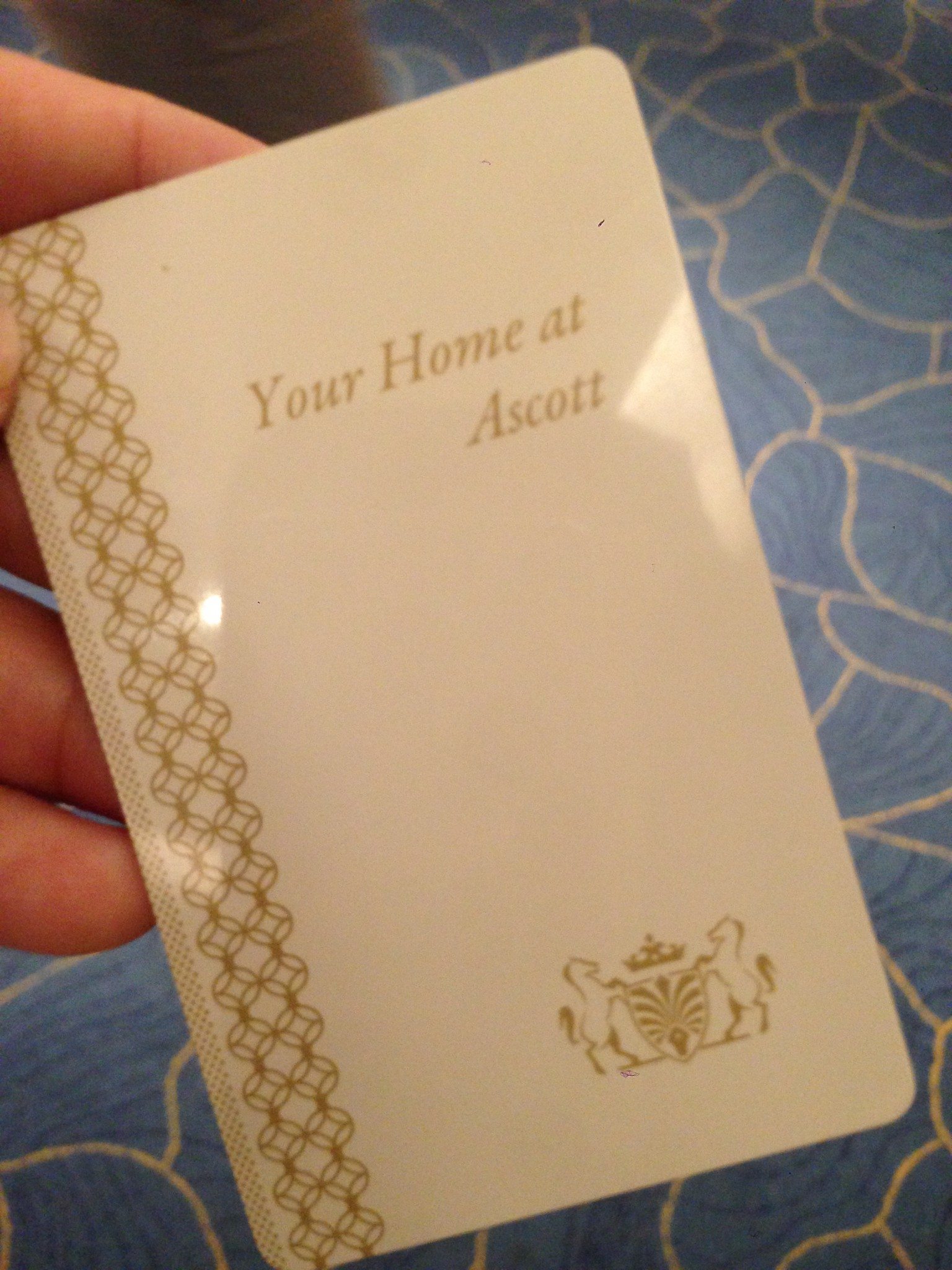 Getting several access cards is helpful as it makes life a lot easier for coordinators.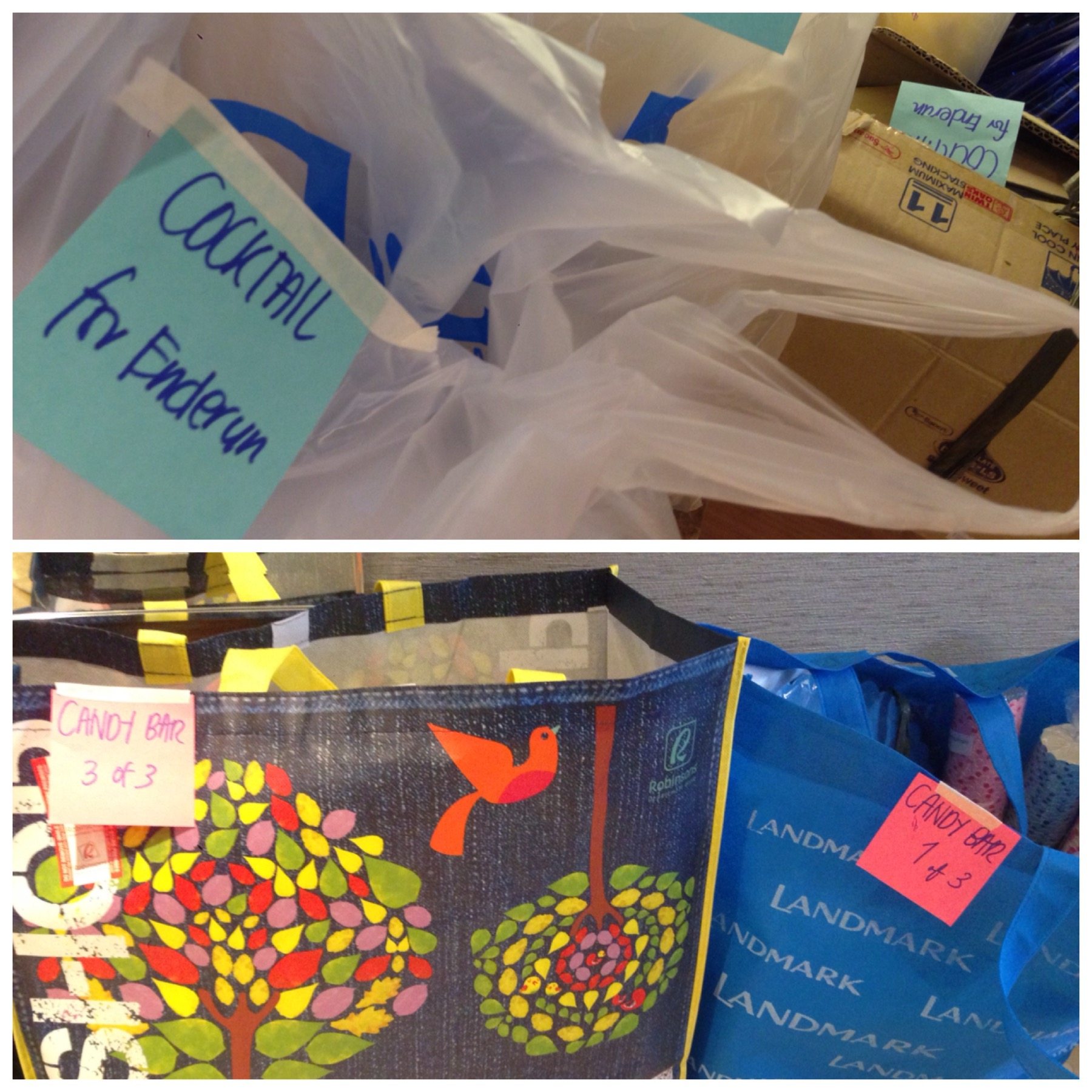 No need to bother bride, she labeled everything well already. Hirap sa coord if di maayos turnover, pati HMU (Hair & Make-Up) hirap din kasi ikot ikot, galaw galaw eyes, face & mouth .
Pati ang bride hirap kasi di maka-relax, maski di siya gumalaw pag nag-iisip utak niya, 'yung face niya may movement.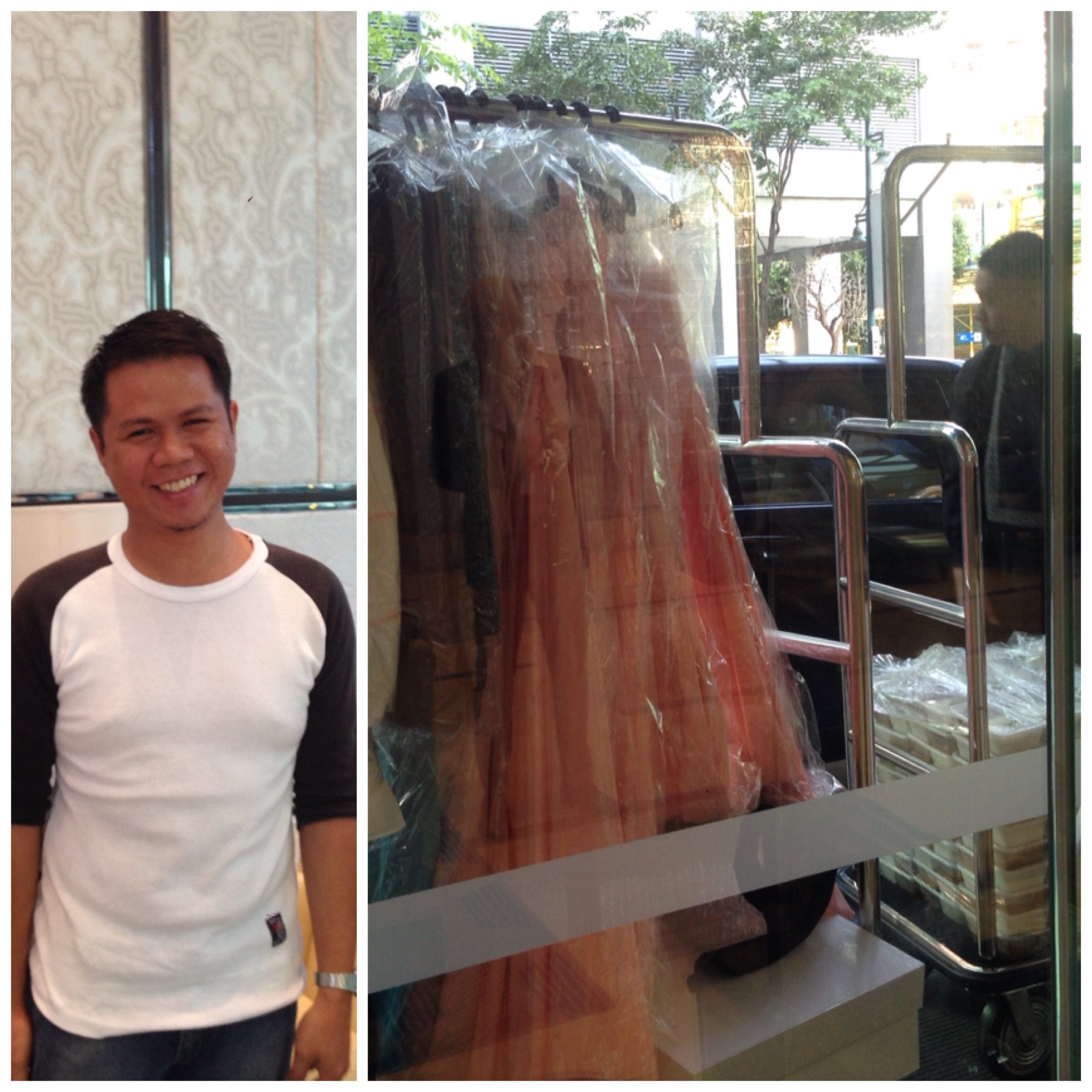 Suppliers bump into each other at wedding preps, lalo na sa Dec! 'Yan na social life nila sa peak season .
Hi Mike of Team Val Villarin Hmua working with KTG that day!
We went down to get the crew meals sabay with gowns.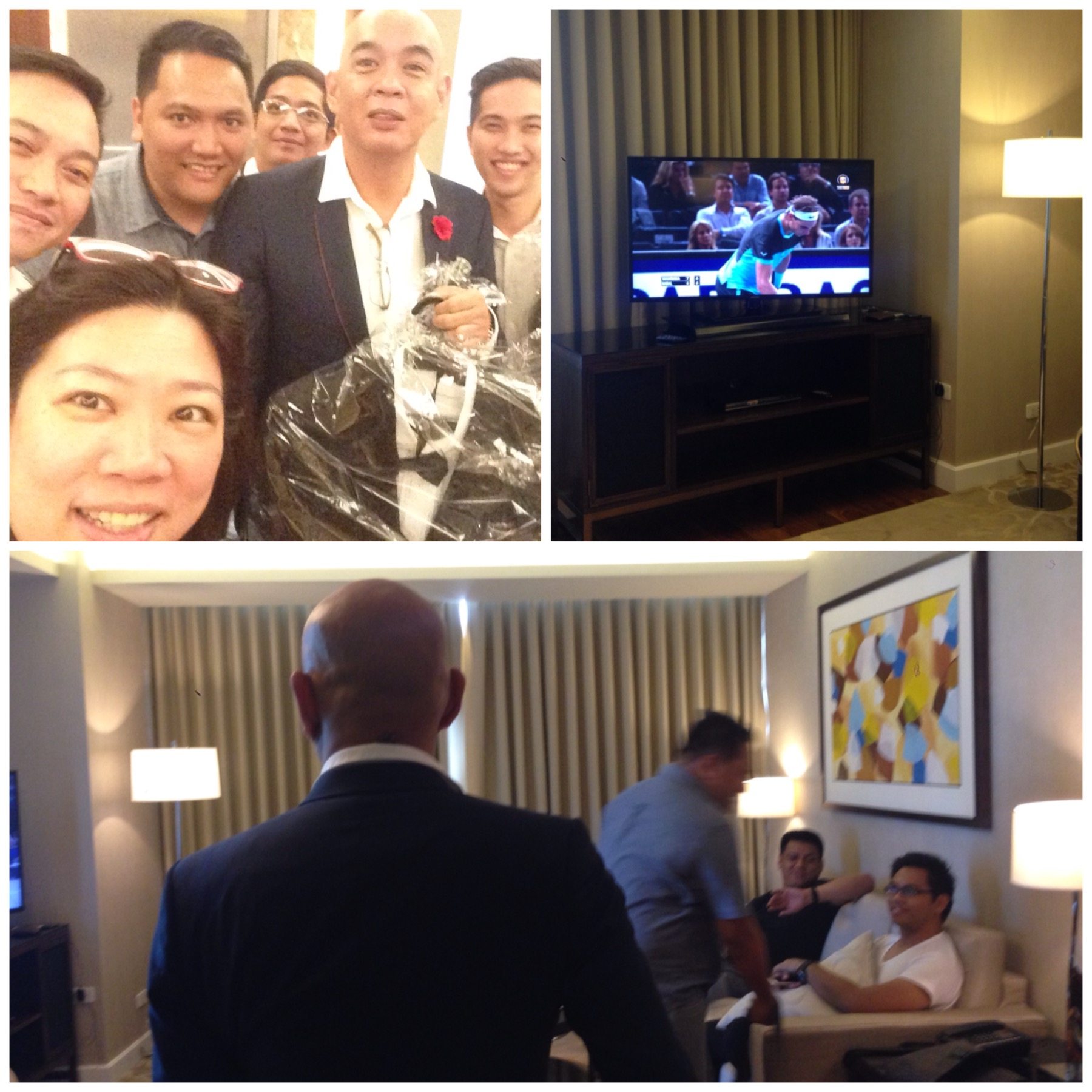 Grabe kung gaano ka busy ang bride's room syang chill ng groom's room! TV lang.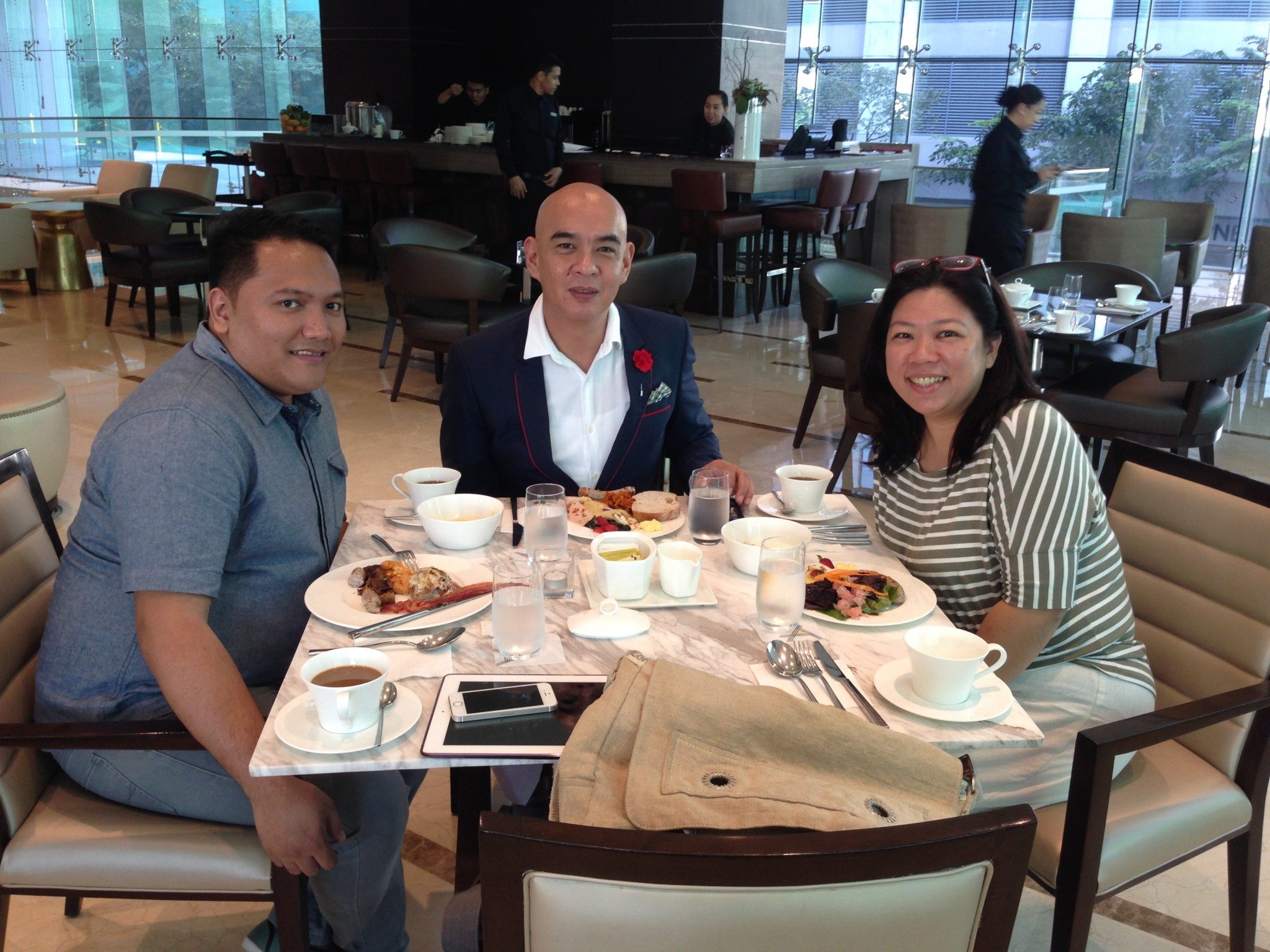 Aha! Kaya pala 8hrs before sila, usually eh 6hrs before lang eh. May baon akong energy bar, m&ms, candies, takot akong magutom!
Nakalimutan kong di pala ako magugutom pag kasama si Boy Kastner Santos walang hashtag sidetrip ito, LOL.
This can be done if you have an efficient team. I know for a fact Thoffy sometimes even accepts meeting when may wedding.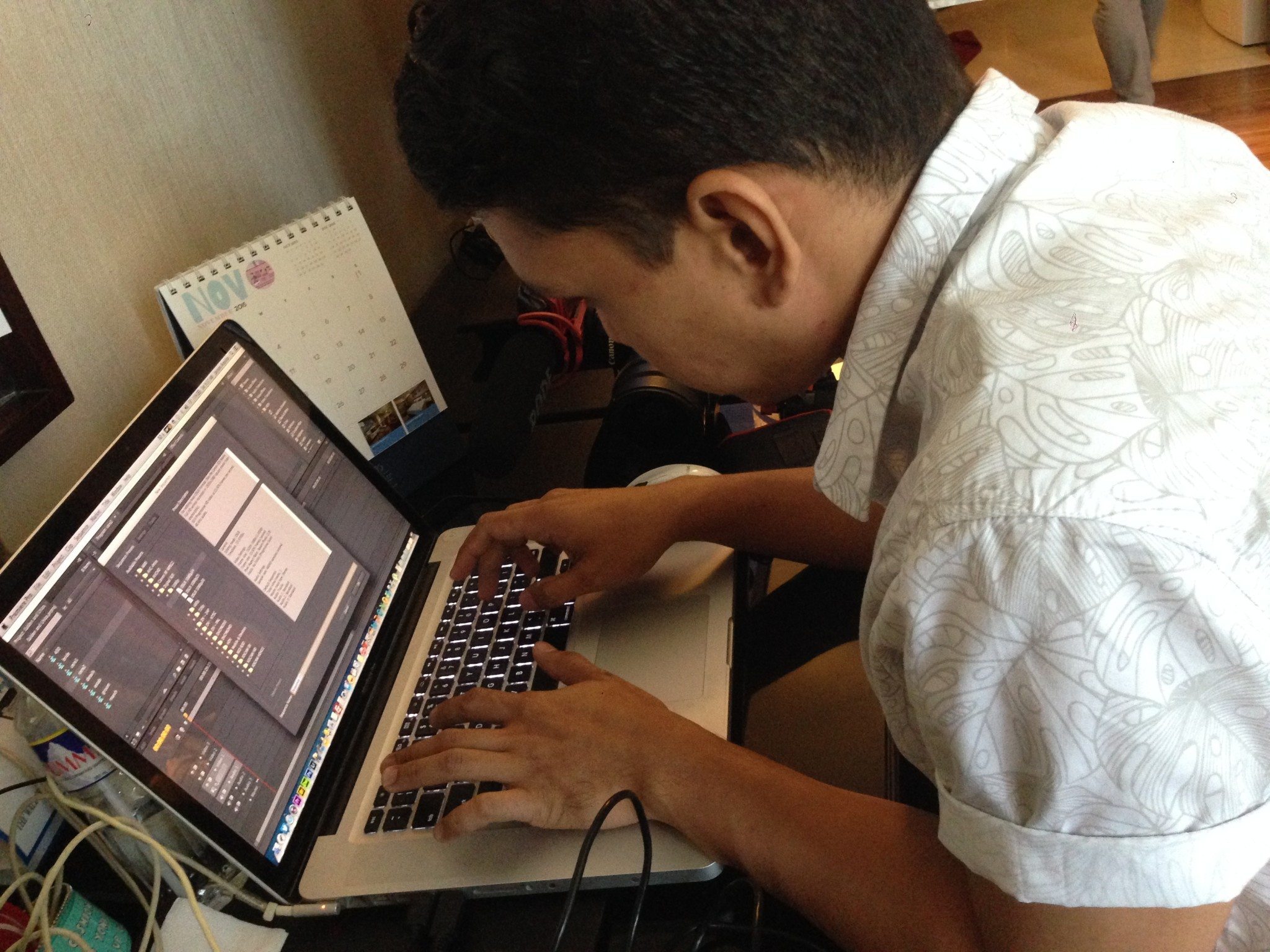 Part ng job ng coord is to ask if ready na SDE. Tinanong ko si Mon ng 4:30 Films, di ako pinansin. Loko to, lagot ka later sa akin pag tense ka na!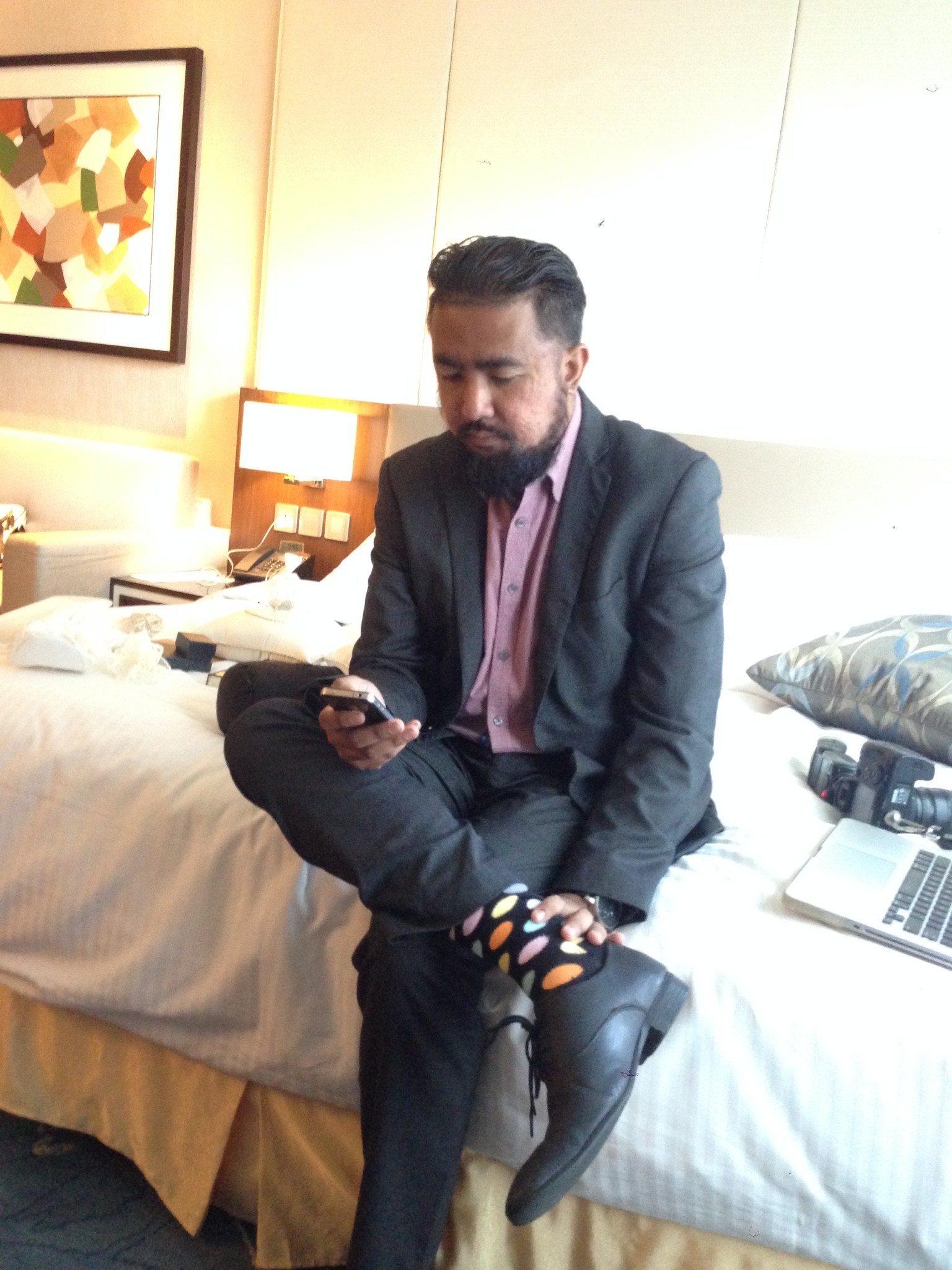 Photo Video Team arrived wala akong kaalam alam haha nasa cafe kami!
This is Jayson Arquiza with beard (grrrr) of Jayson & Jo Anne Photography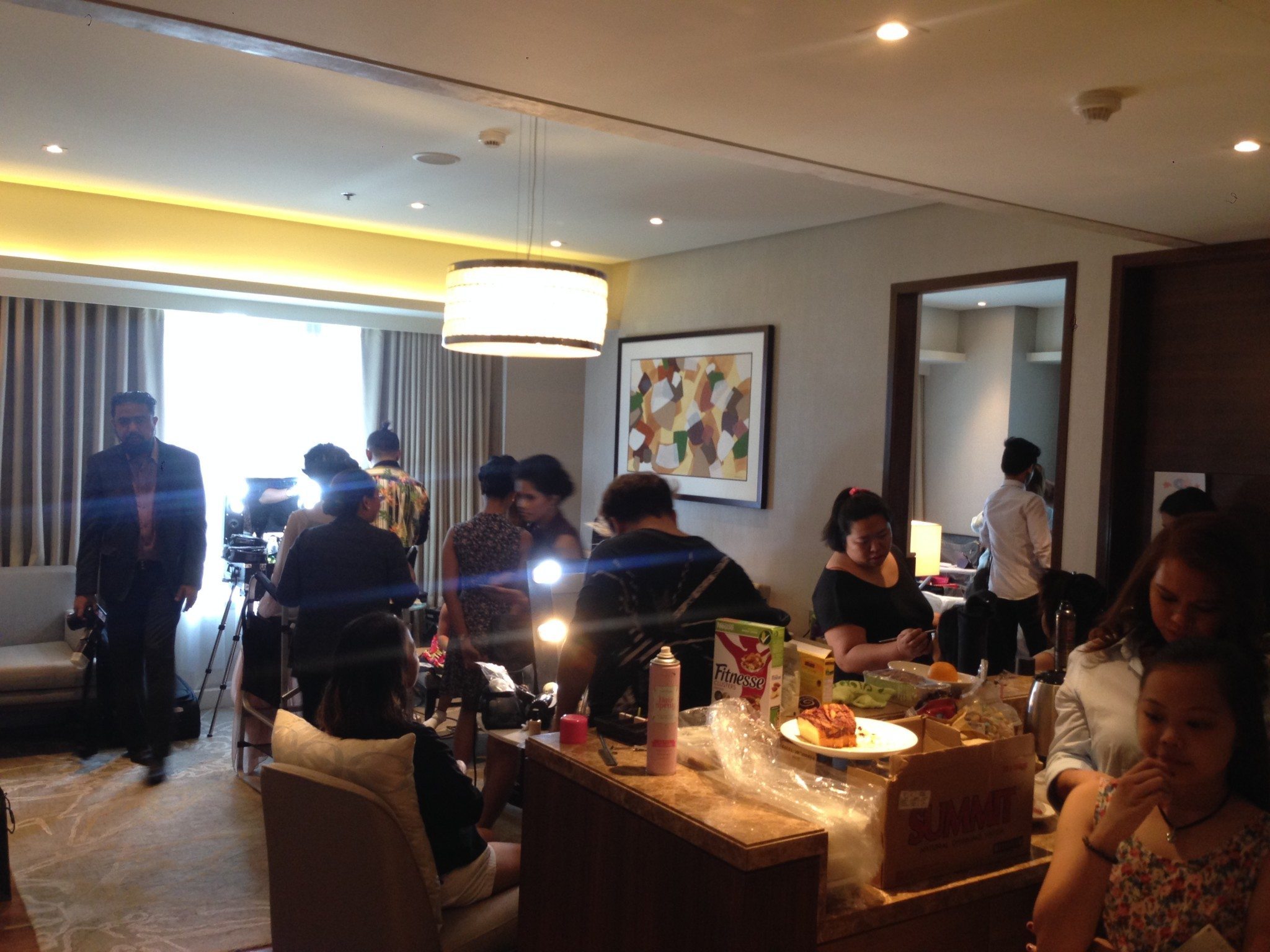 Happening sa prep right now. They are all doing something. Ako nasa isang tabi lang observe observe.
Ate Thess eating; other members ng team nakabalik na from checking Enderun, Serge came by na din and is back in Enderun, Muriel make-up pa din tuloy tuloy walang tigil, may one woman show dun patawa ng patawa, photo & video all around the hotel with the details-rings, gown, bouquet, shoes, invite etc, Charie ng BKS nagugupit ng anik anik.
Ang bride? Chill lang, chika chika while minemake up-an.
Ako? Antok sa busog gusto kong humiga sa bed walang gumagamit, pampasikip lang ako sa kwarto!
So far ang smooth parang di mahirap trabaho. Prep room headcount at the moment: 26!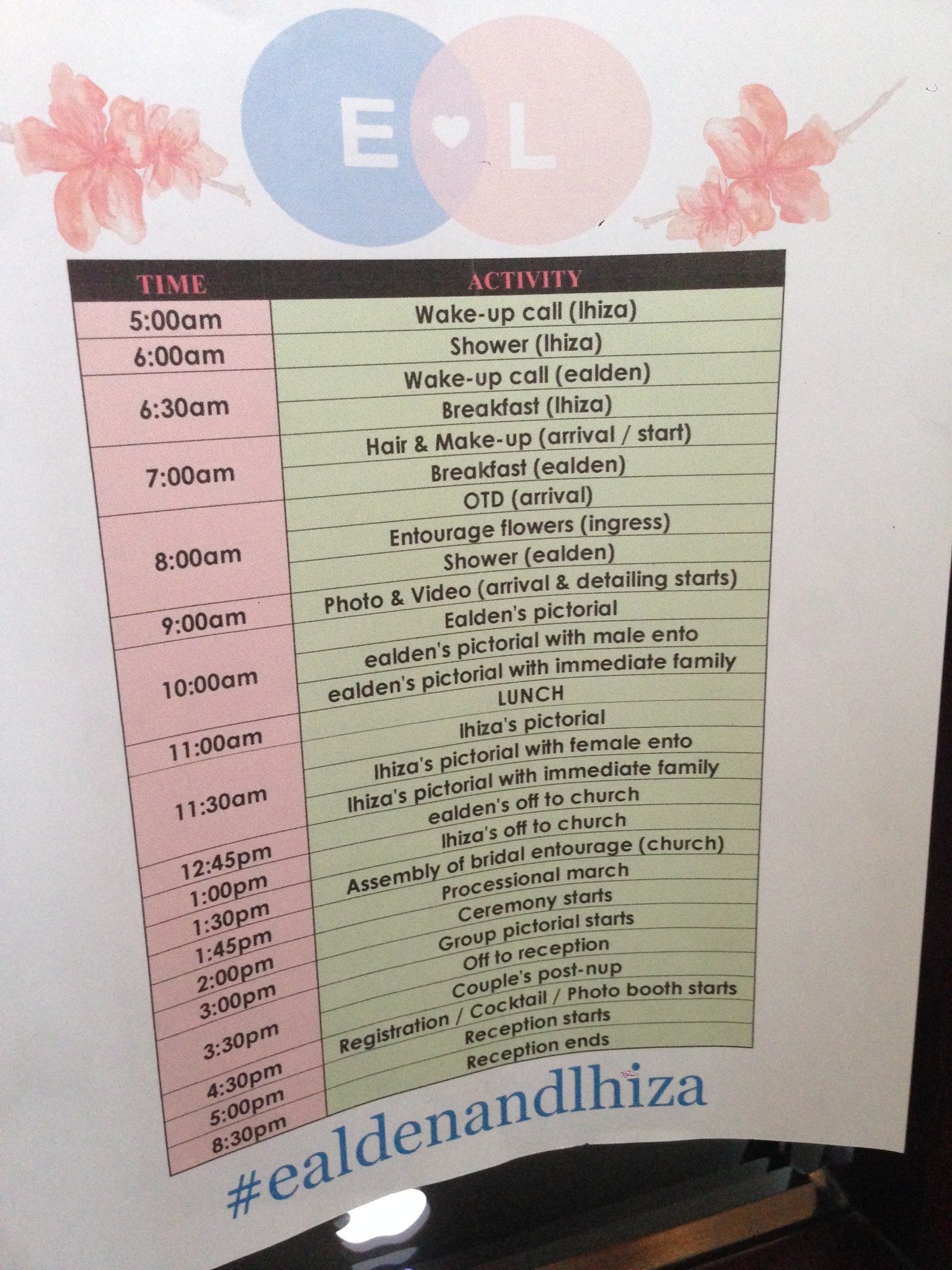 What I gathered: Crunch time is when it's about time to leave for church and papila sa simbahan. Ngayon petiks pa, p'wede pa akong dumayo kina KTG, Val at John Marvi de Guzman. Cinemaworks preps din in the same hotel.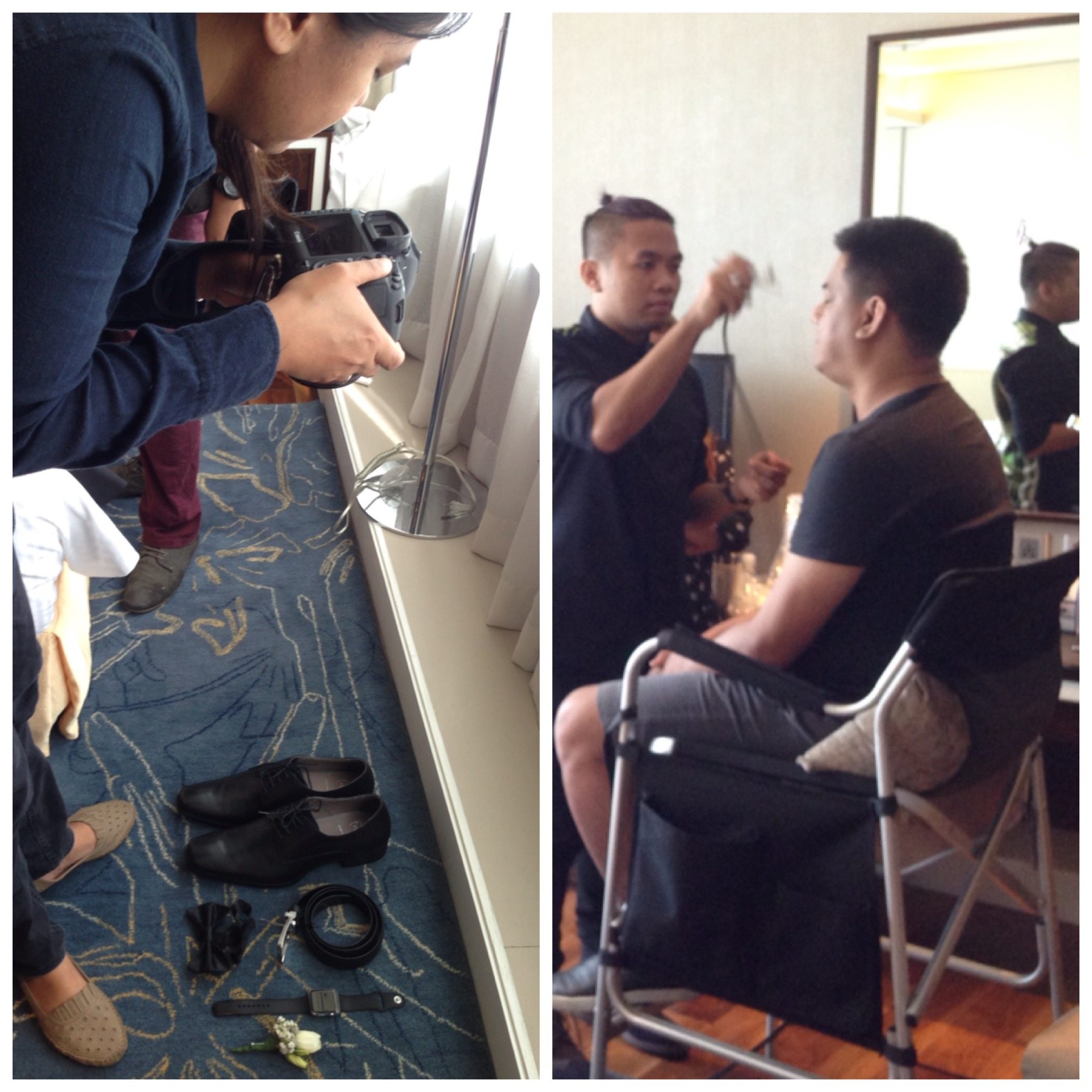 The Muriel show lumipat sa groom's room.
Ang groom pinupuntahan lang 'pag wala nang magawa sa bride. Shhhh pati mga gamit, di na nilalabas.
In fairness, ayaw din ni Ealden ng fuss.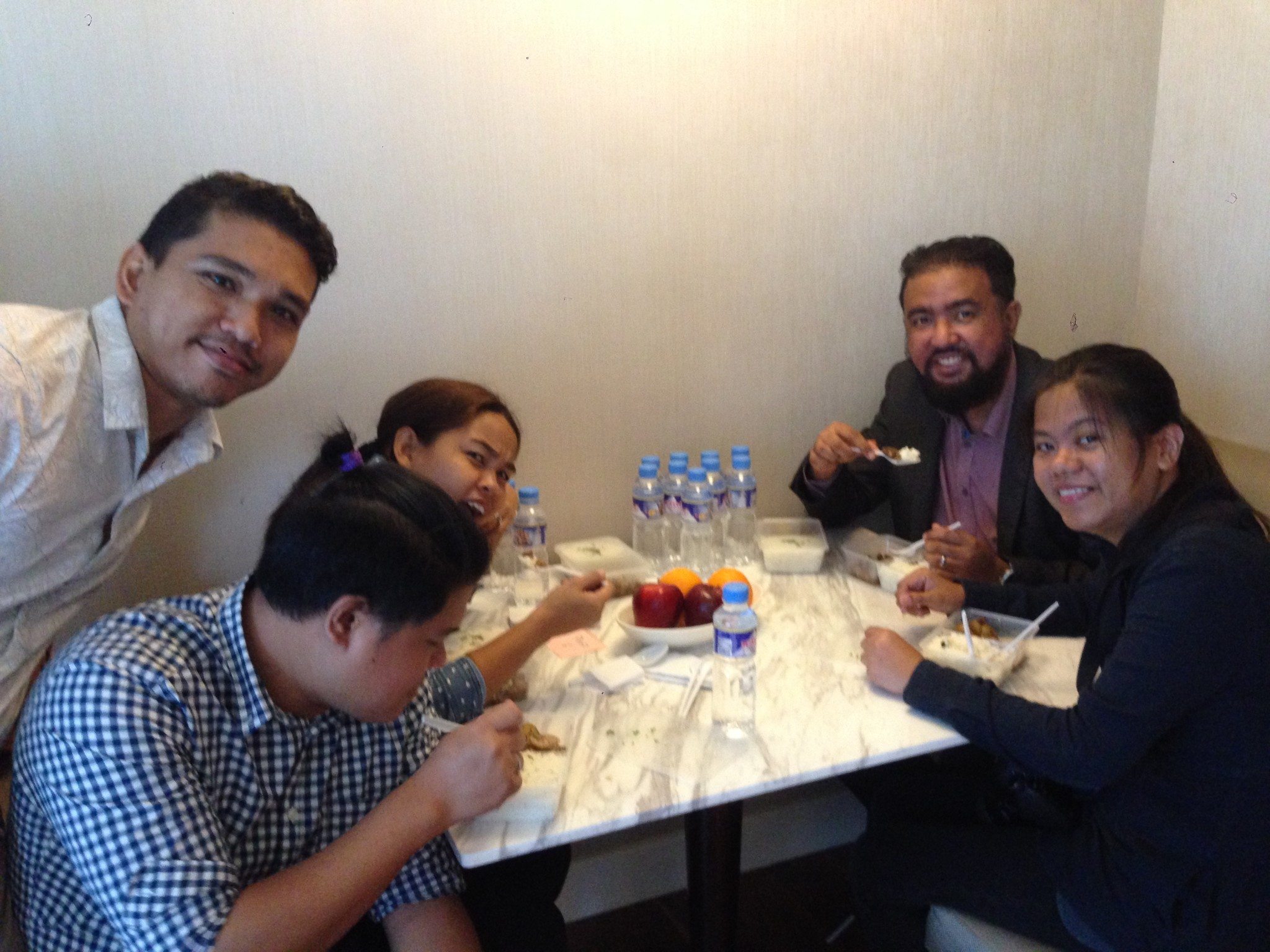 On food for suppliers during preps. Most of the time its meant for sustenance than as an enjoyable treat.
Coord struggle to bring in food, no joke yan. Couples want to feed suppliers well but any amount x the number of people needed to be fed is no joke din.
Suppliers finding a place to eat is also no joke if room is small, lucky if they find a table like in this case; sometimes it is balanced on the lap, sometimes it is awkwardly done with family members around, sometimes it is even done in hotel's parking lot or in the car on the way to church! But that is if may food.
If food is not provided, that is altogether a bigger problem.
So far I have been here for 4 hours na and we are just at the preps. Work hours are no joke. If suppliers charge you a measly fee, please wonder what gives.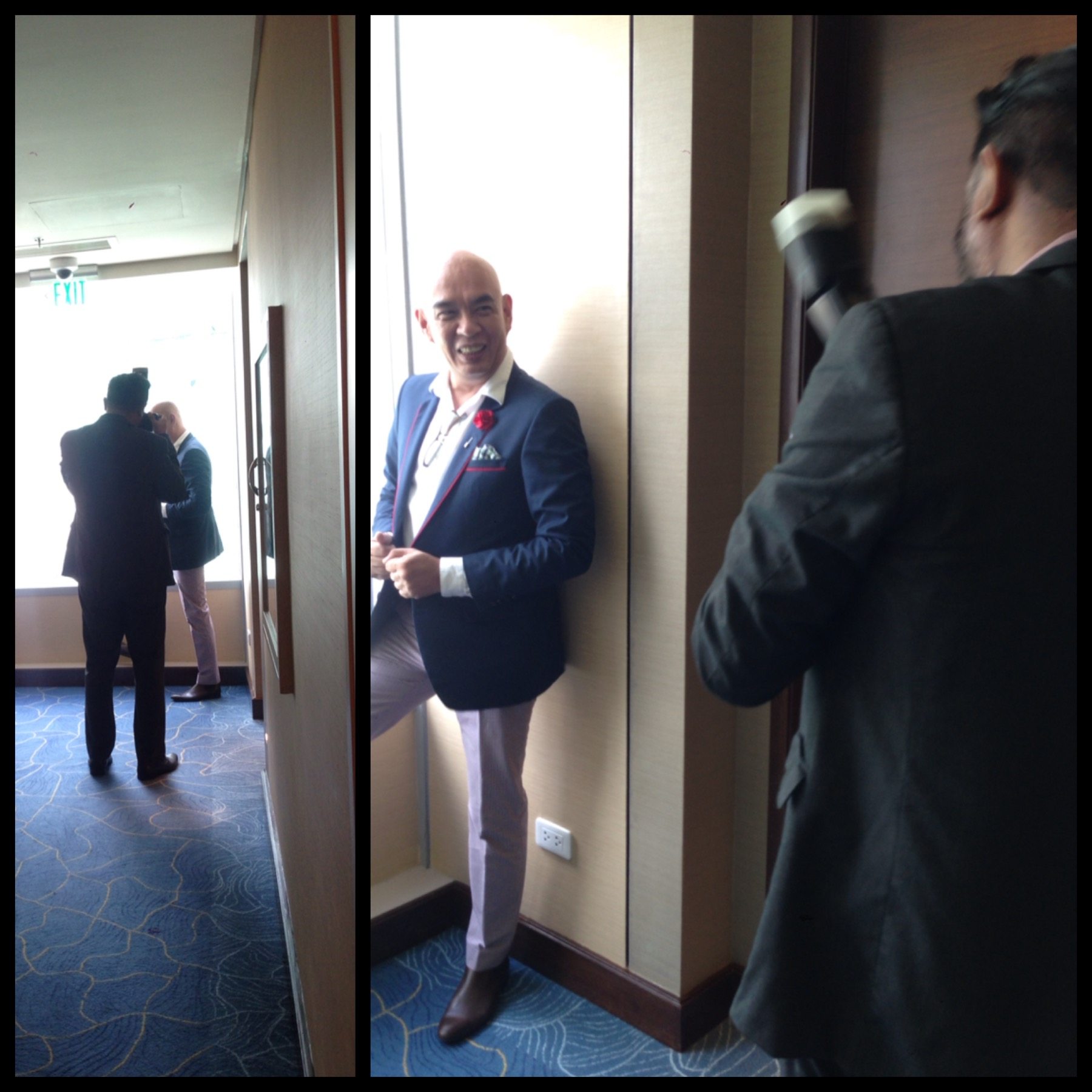 Pag maganda rapport ng suppliers team, smooth and on sched, p'wedeng magsisisingit ng personal agenda!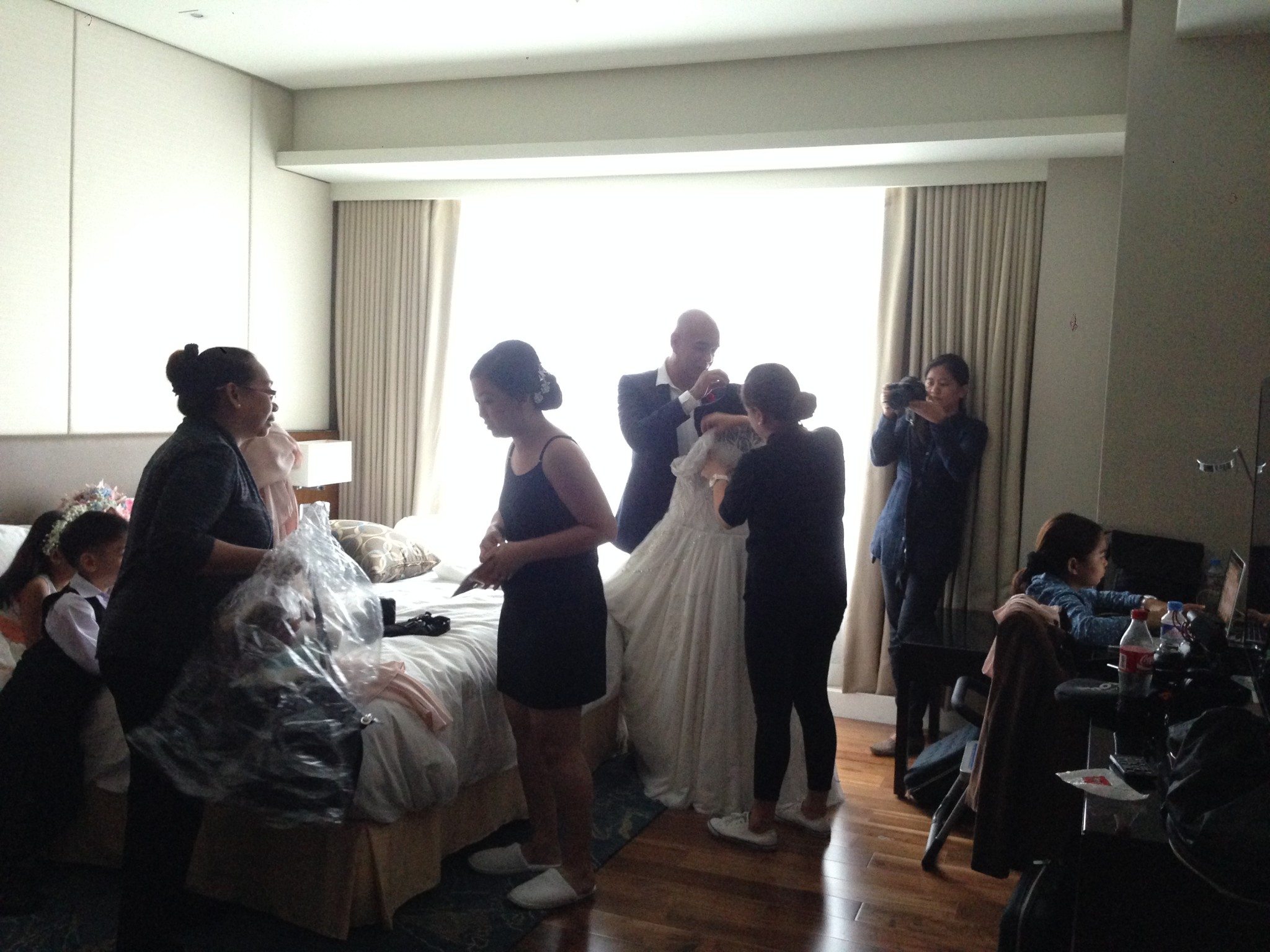 Eto na moment na ng bride!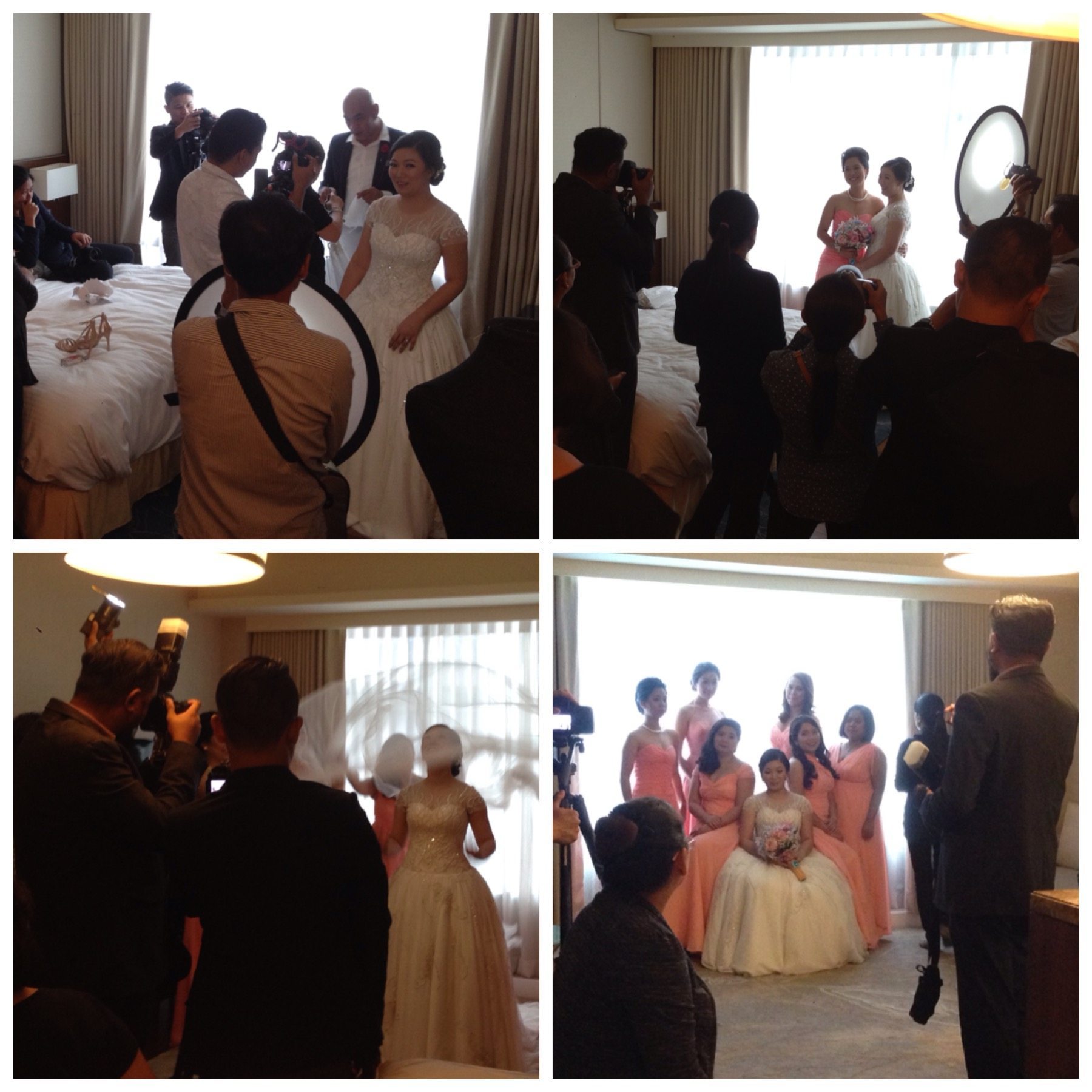 By this time, most of coord team in the church na. Ate Thess, the bridal manager na lang naiiwan sa prep.
The team iniwan ako, 'di daw ako kasya sa dami ng dala to church!
This is the Bride's moment. As soon as she puts on her gown… aura na agad yan.
Emotions are high. Hugs with mom, with family, with MOH, with entourage comes with deep meaning. In a few hours she will be a wife…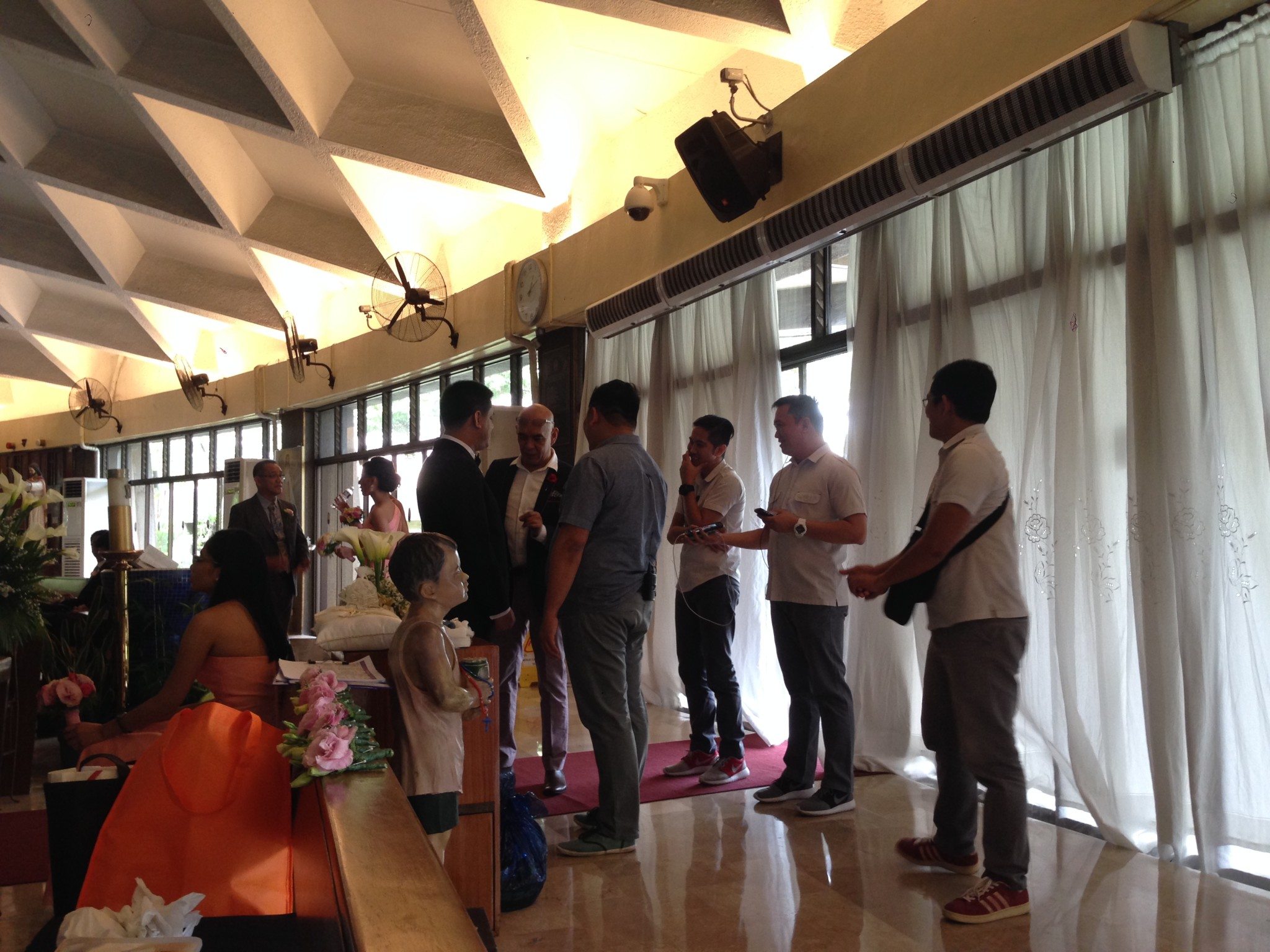 At the church. Coord team arrives aprox 1.5 hours before the ceremony. Coord making sure flowers, misalette and entourage flowers are in order.
Walang masyadong ganap. Groom arrives, then entou and guests slowly arriving too.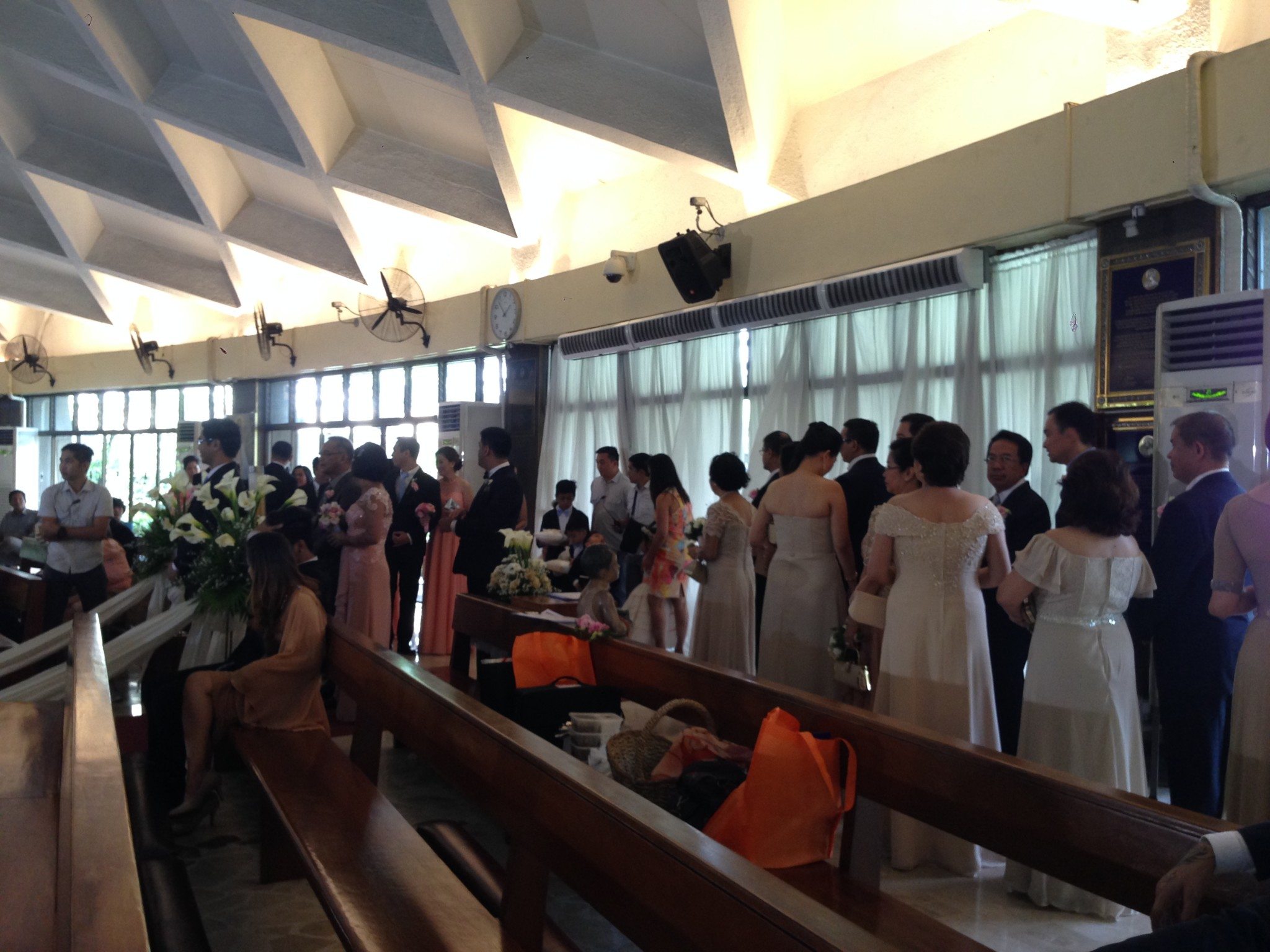 From petiks to intense ito. Mga window of 15-20 minutes yan. Crunch time! Anyone who needs something or have a question, you only have a short window of time to address them all dahil magma marcha na!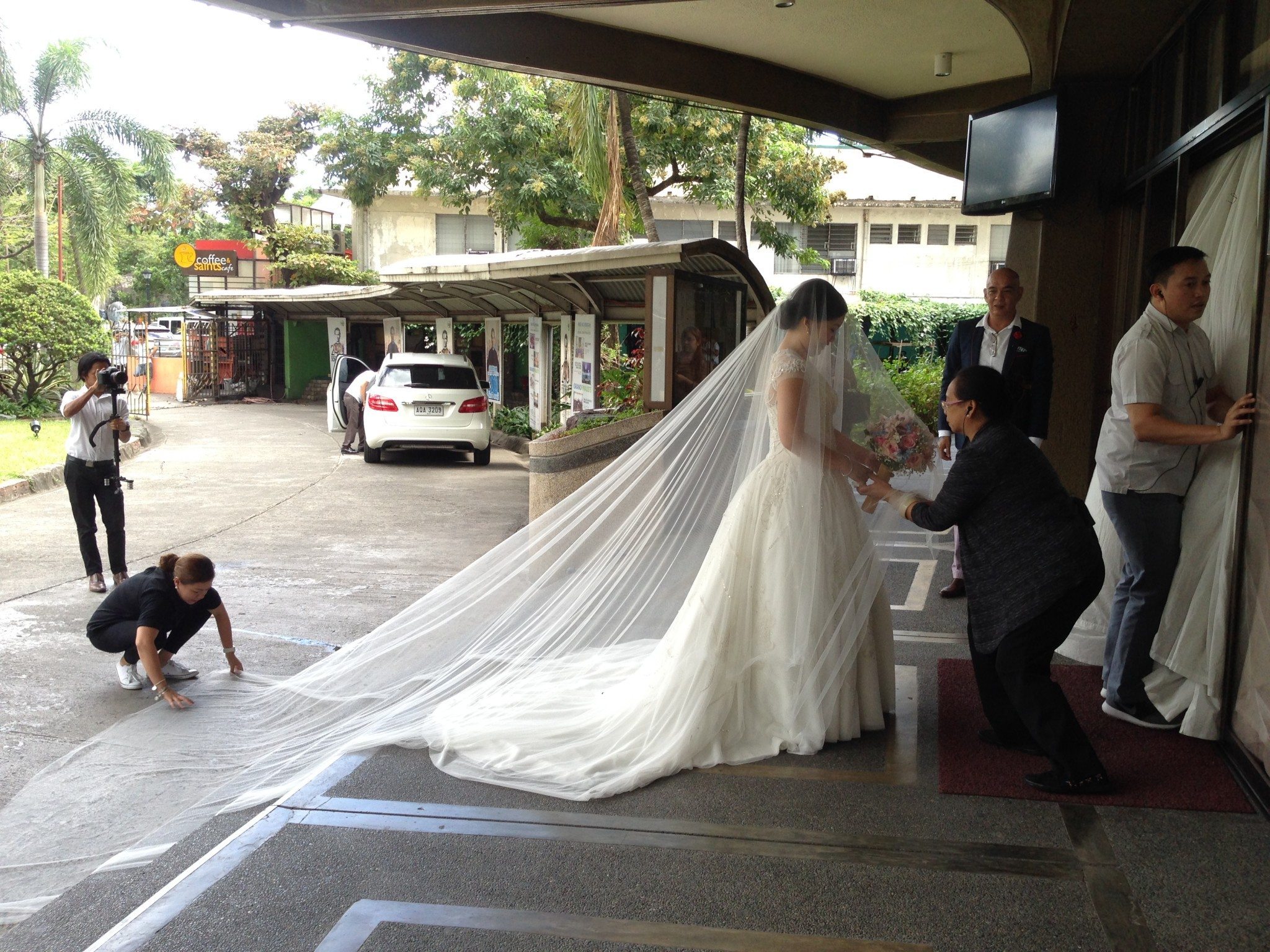 THIS MOMENT! I was blown away by the strength of emotion in this area at this moment! Ito yung THE DOOR!
Grabe sobra, palpable, *na teary eye ako*. Ito yung moment that a good coordinator and each wedding supplier HAVE TO make sure perfect… every supplier owes it to the bride to make this perfect. This is too precious to foul up.
It's been an hour since this moment but yung feeling dala ko pa hanggang ngayon. I beg each supplier to please make this perfect for the bride. It is their one and only, even if it is your 100th.
Lhiza, thank you for all that I am learning and relearning as I attend and observe your wedding. Hugs! My very best wishes to you and Ealden.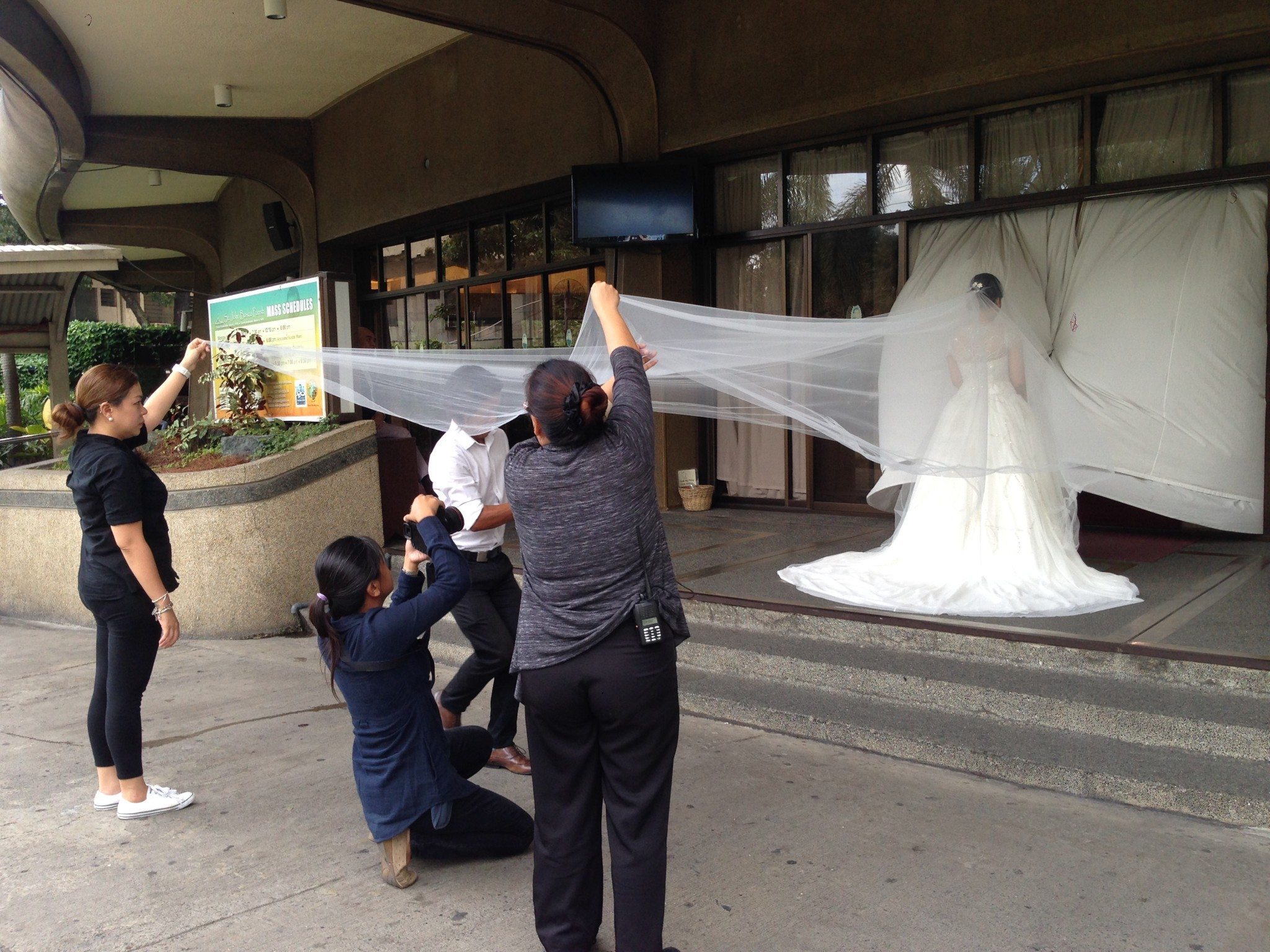 Shoot pa more! The bride will keep going back to this moment!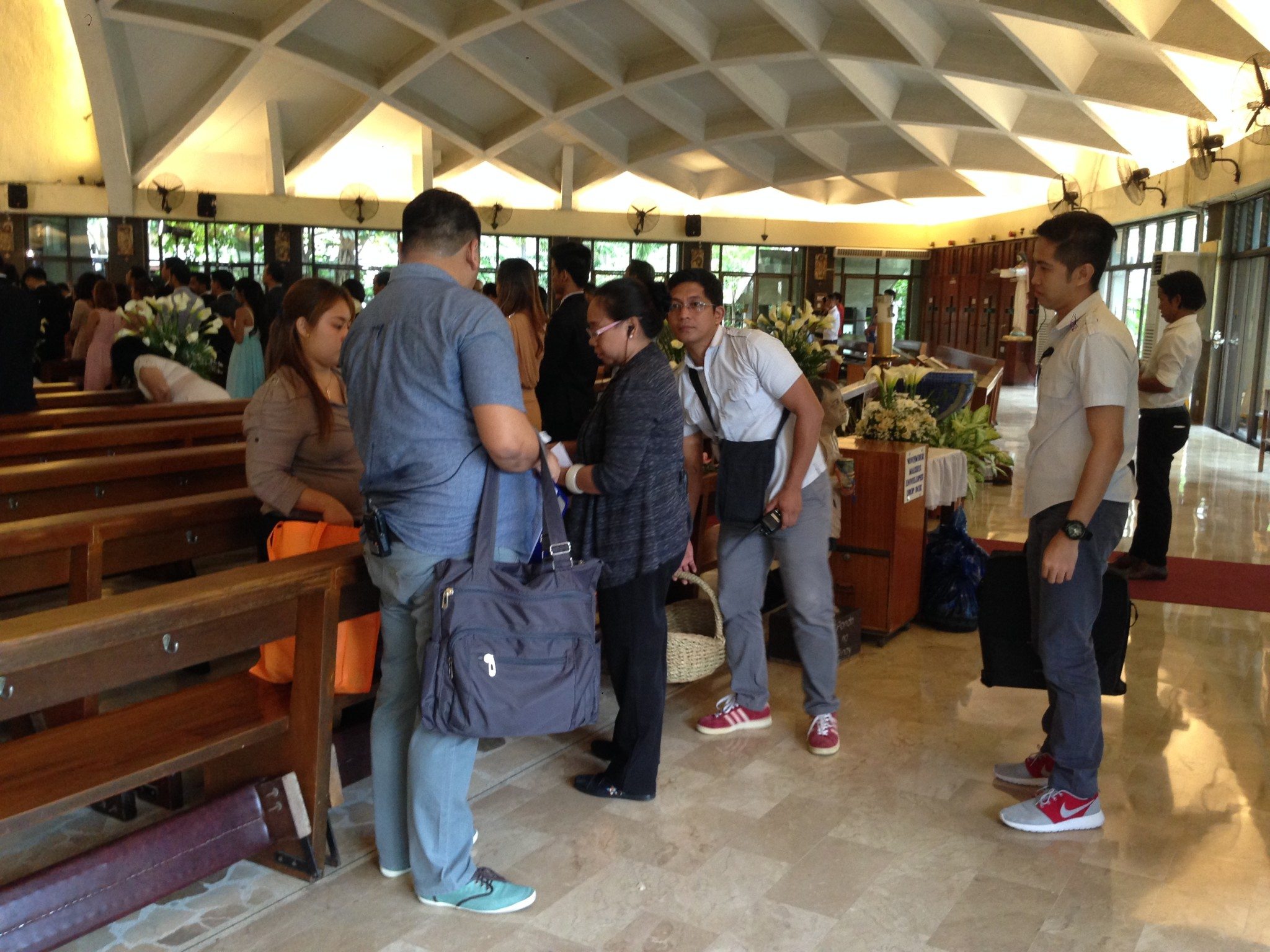 As the bride walks down the aisle….all hands on deck. Saw coord team member sa back ng church, sa left side, sa right side, sa center. All alert and ready to think on their feet.
Once bride and groom is settled na sa altar, team prepared to go na to the reception. Skeletal team na lang maiiwan.
Good and well done Team! Na proud ako, ramdam ko part ako ng team haha! *feeler*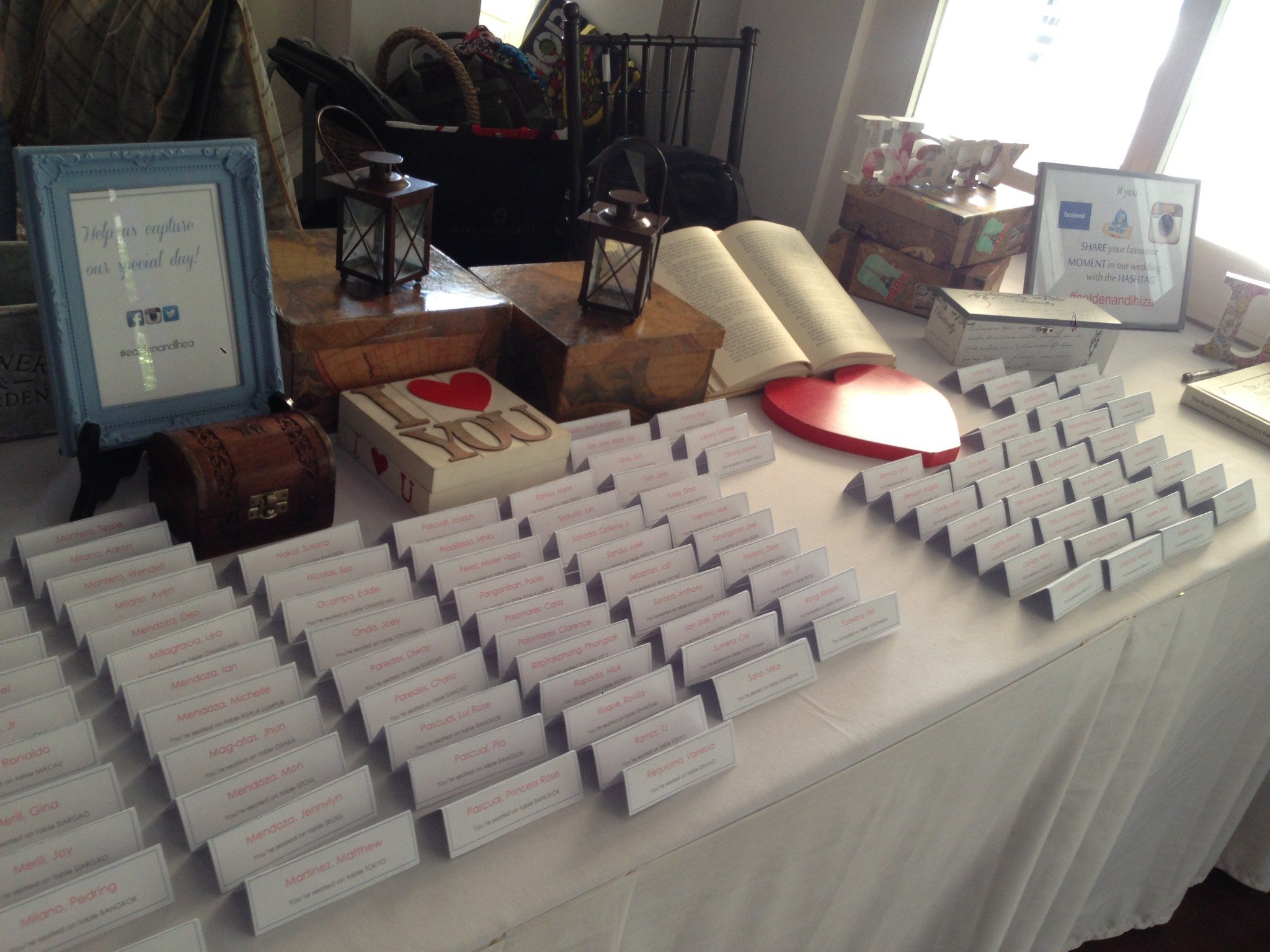 Ayos ayos ng mga butingting ng couple.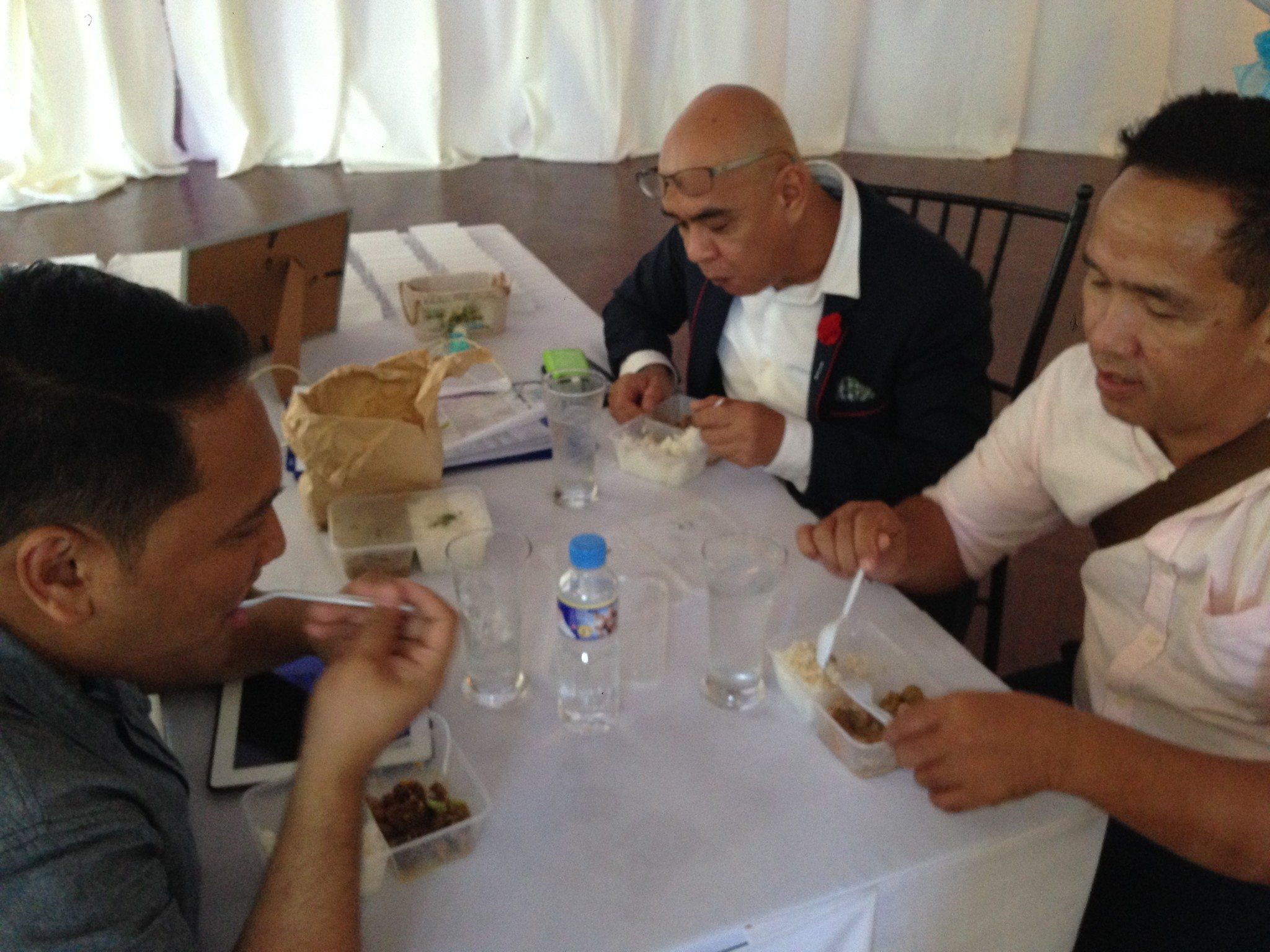 Pagtapos ng lahat ng ayos. Eto kain na ng lunch at 3:20pm. The unglam part nobody sees. You only eat when to do's are all done. Now rest/waiting/petik/tsismis time na.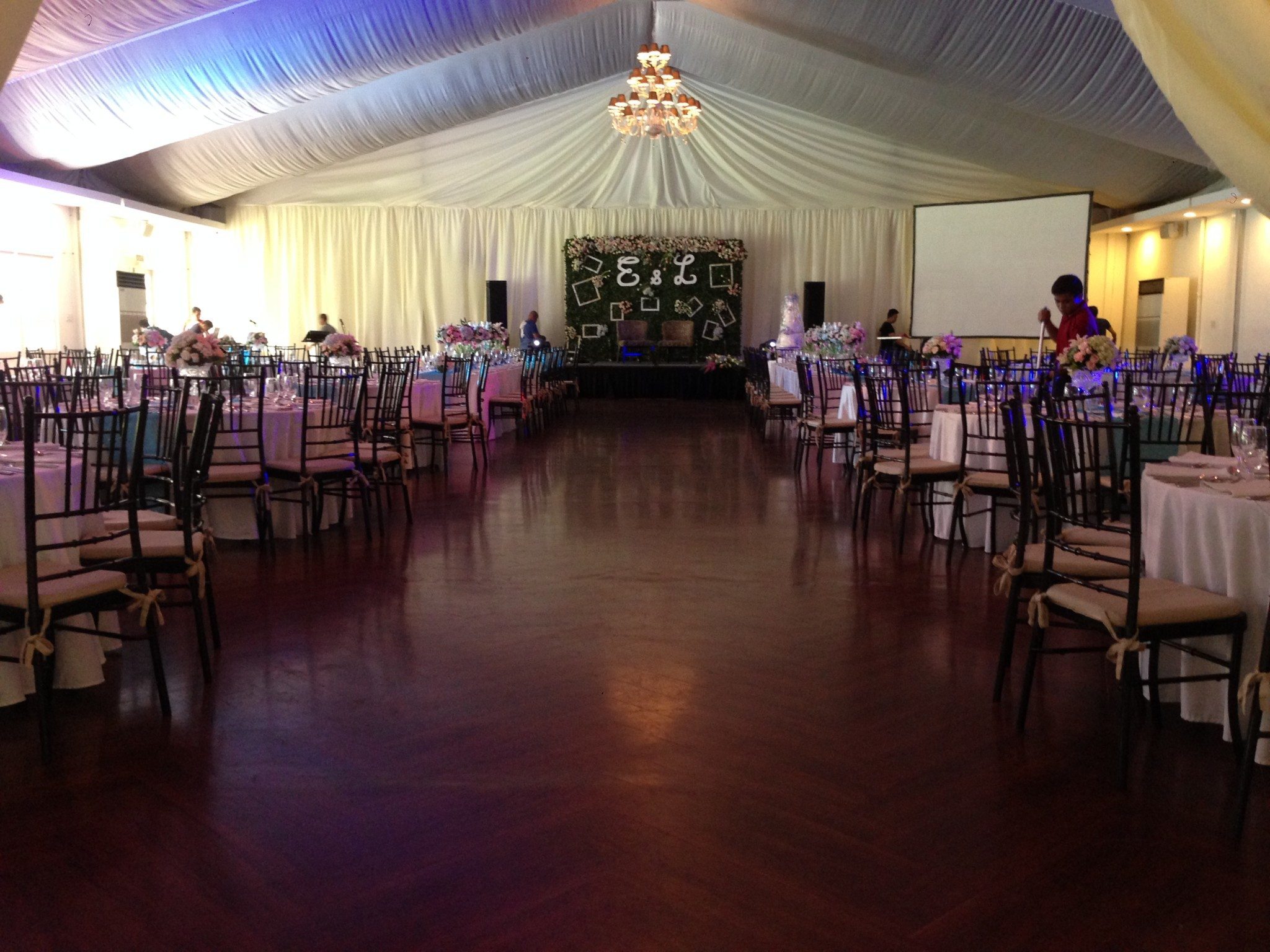 Ready na ang venue, tapos na work ng catering team, stylist, sound system, projector before the type coord team arrives. Nabisita na ito ng some of the team members nung nasa hotel prep pa lang para malaman if smooth or may problema.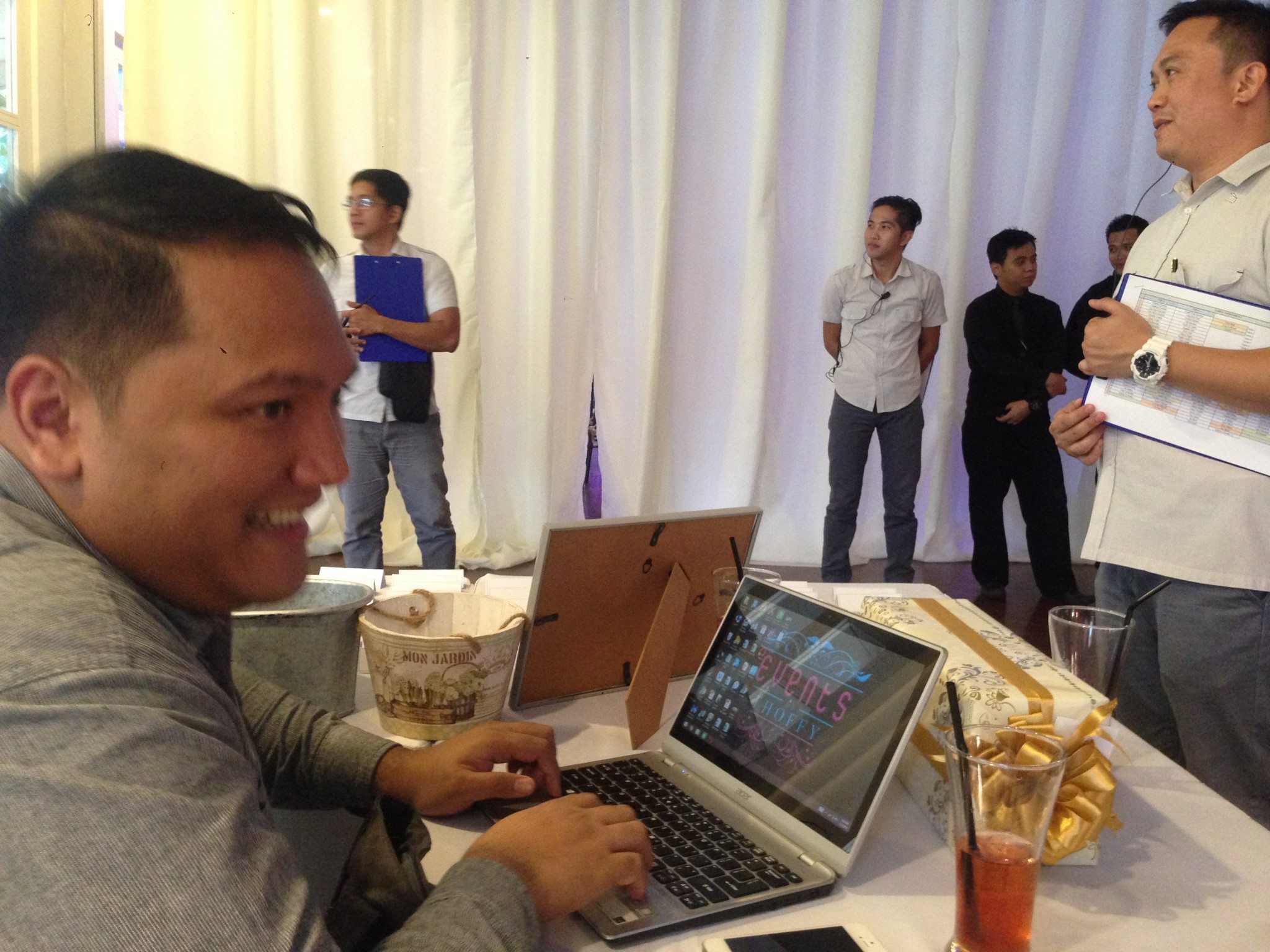 Guests started to come in na. Cocktail hours ongoing!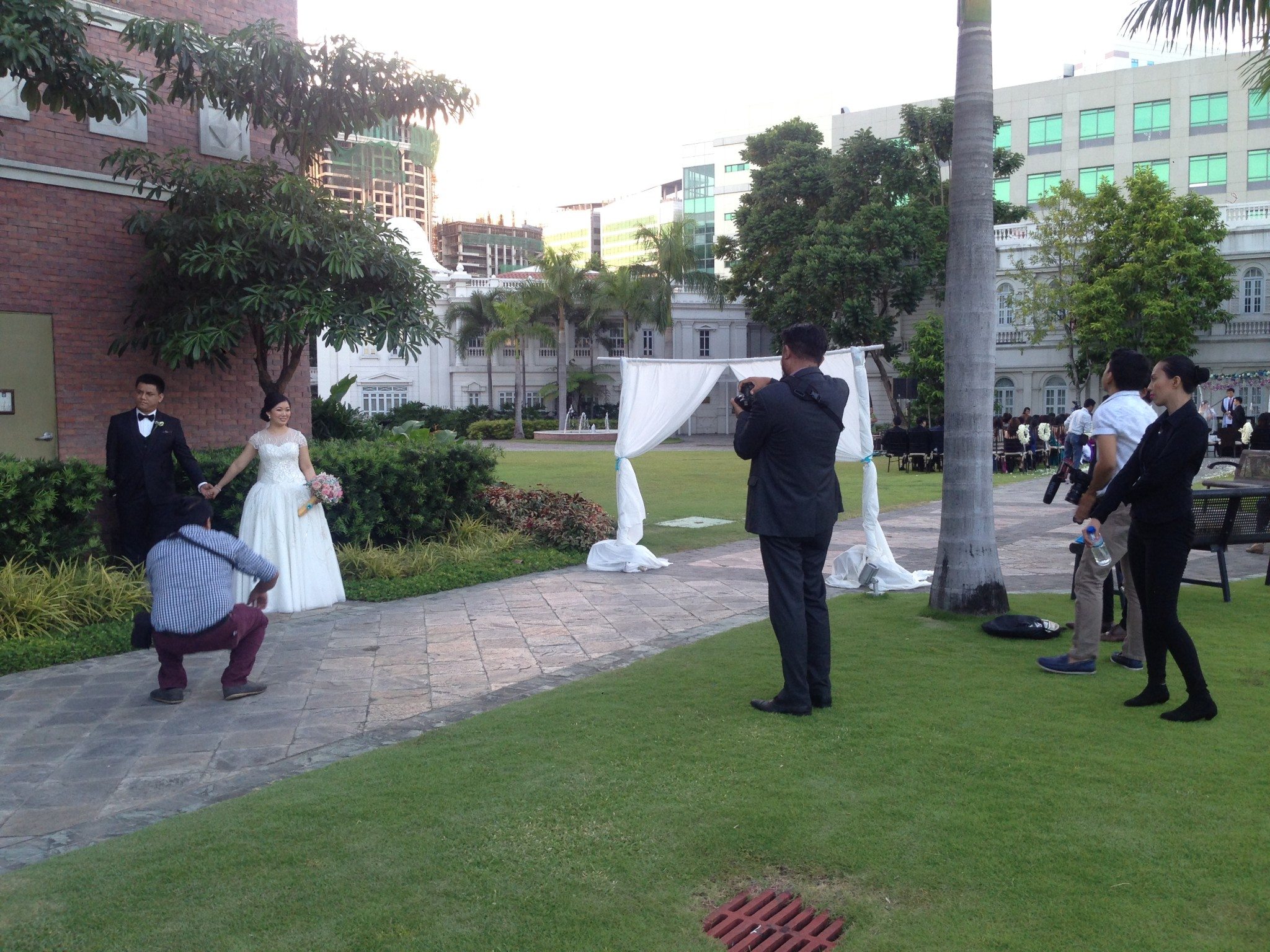 Coord team is chill na. Couple in reception location now. Waiting waiting na lang for pictorial to finish.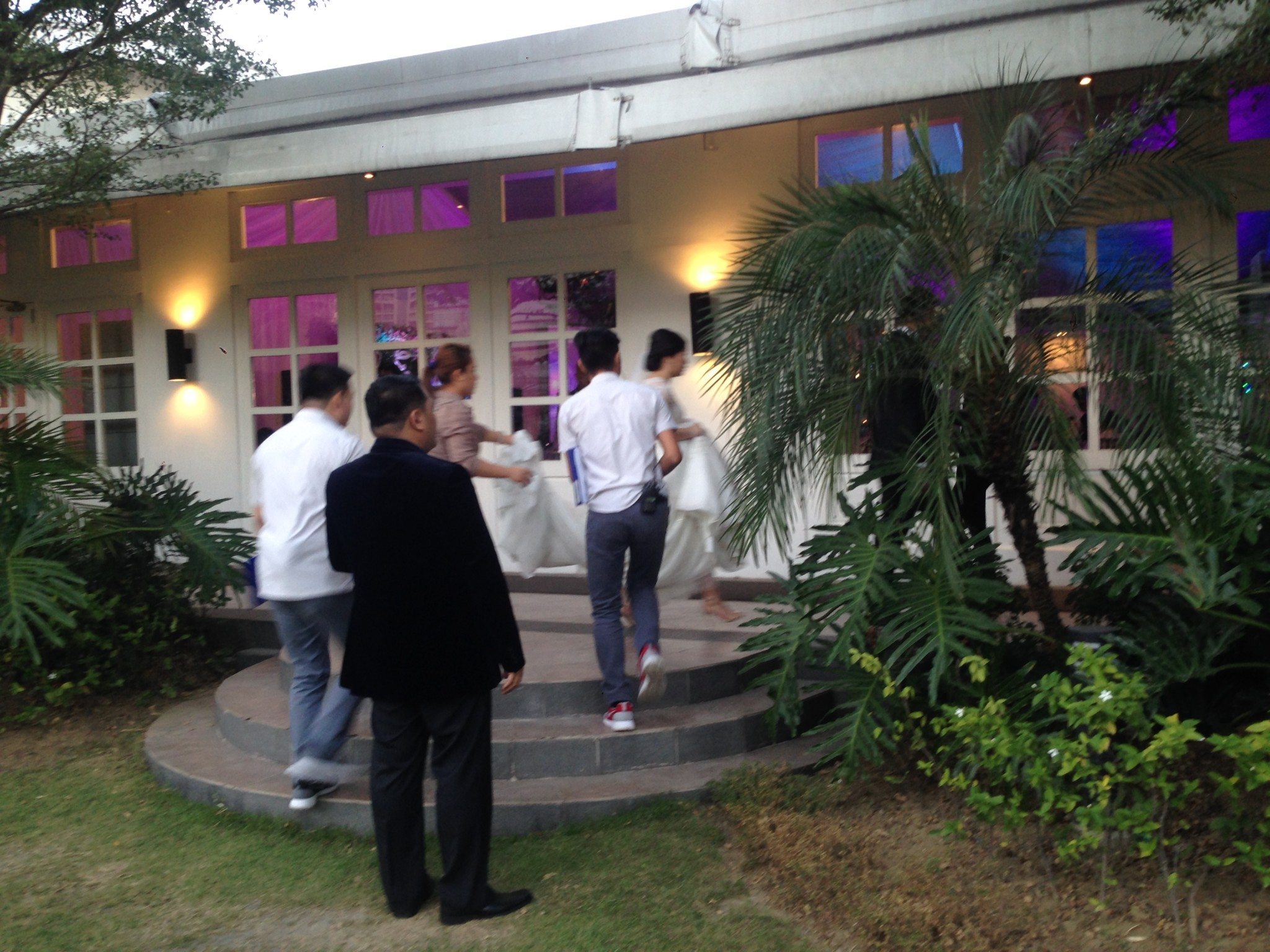 Couple whisked off for retouch and for dinner. Also to rest a bit too.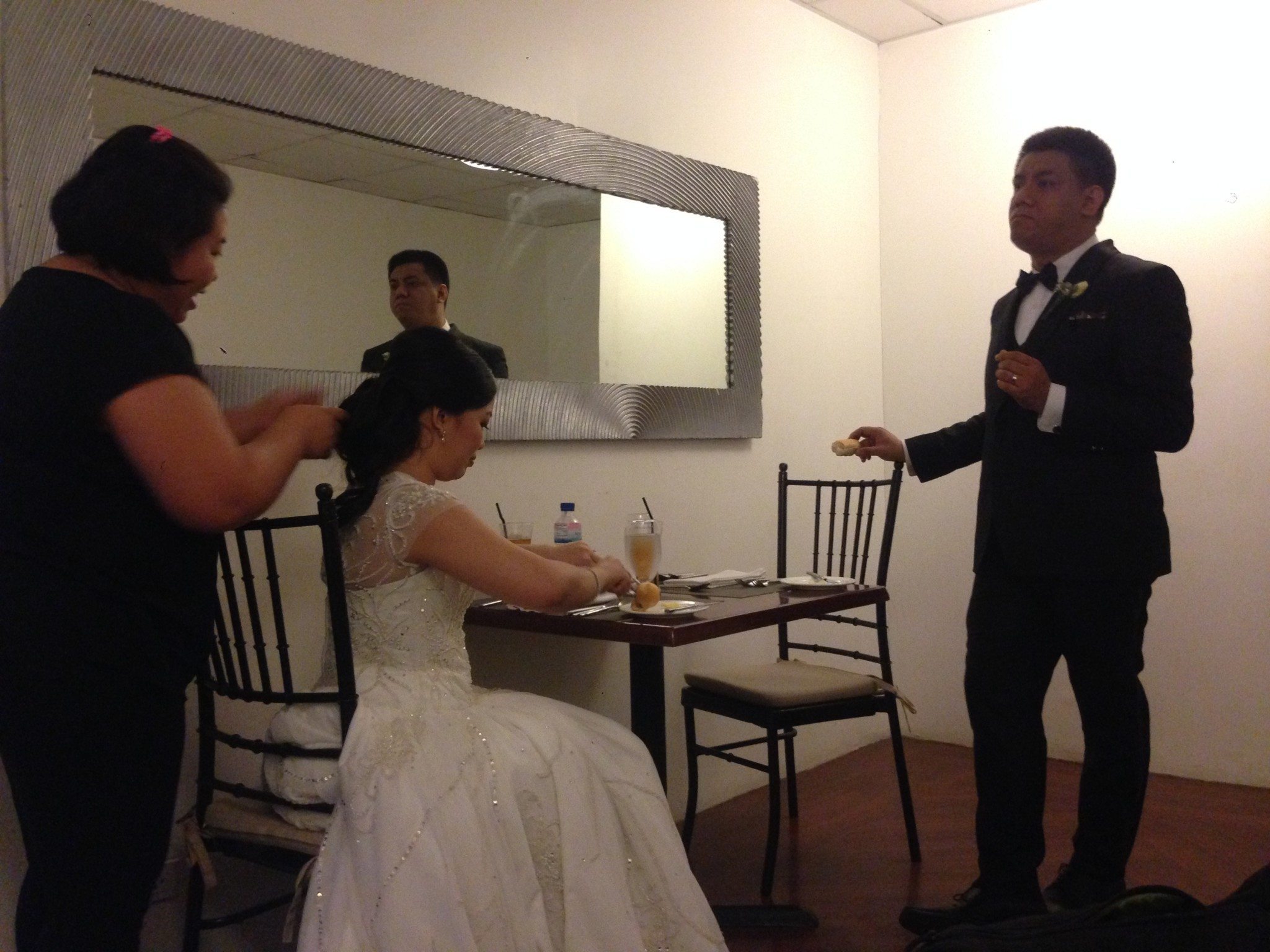 Making sure couple eat maski a bit as it has been a long day and it is still far from over. Even if not hungry because of adrenaline they are required to eat a few spoonful. Also the time for bride to take a bathroom break.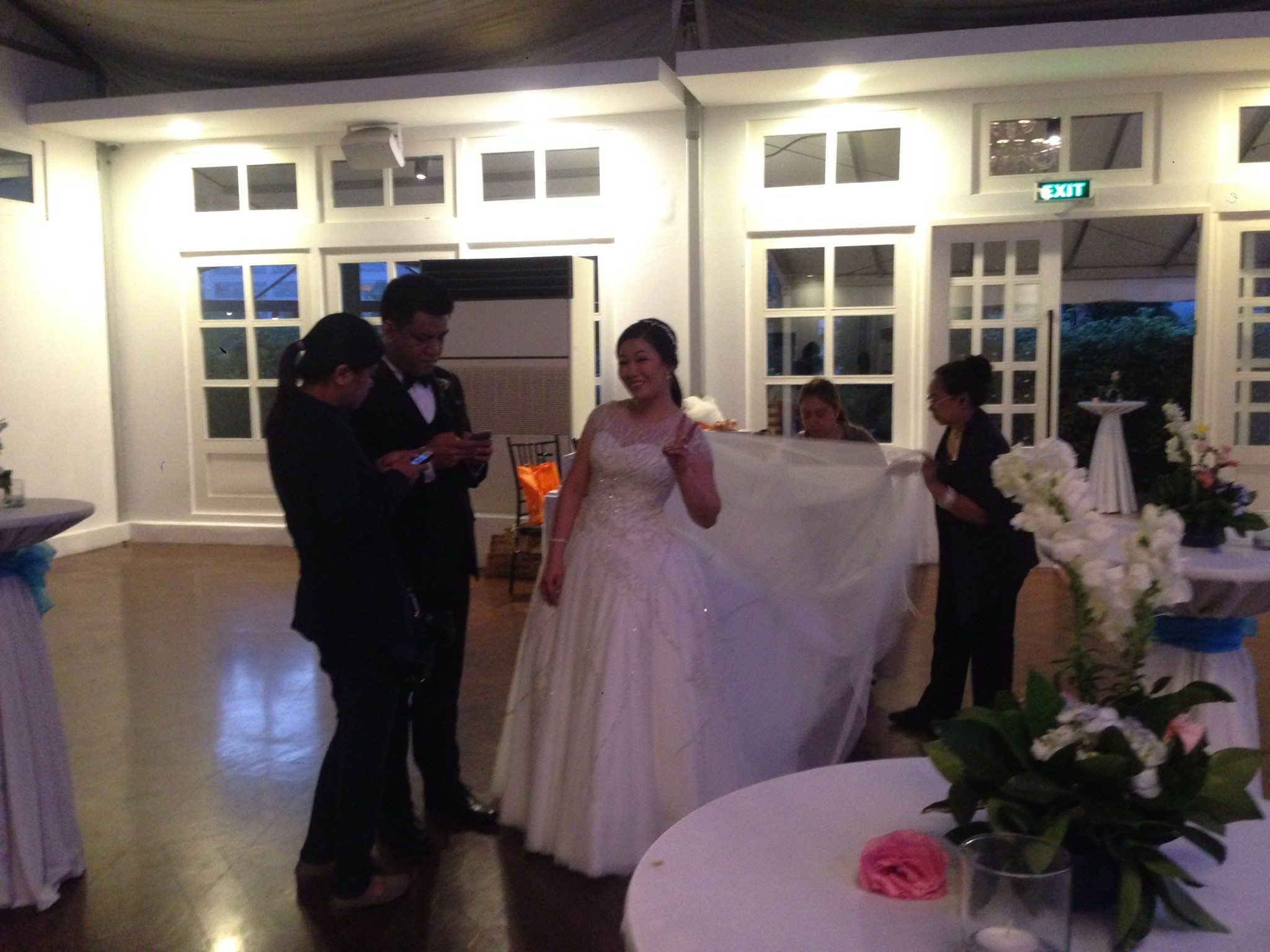 Couple now ready for their grand entrance. Last minute instructions and requests.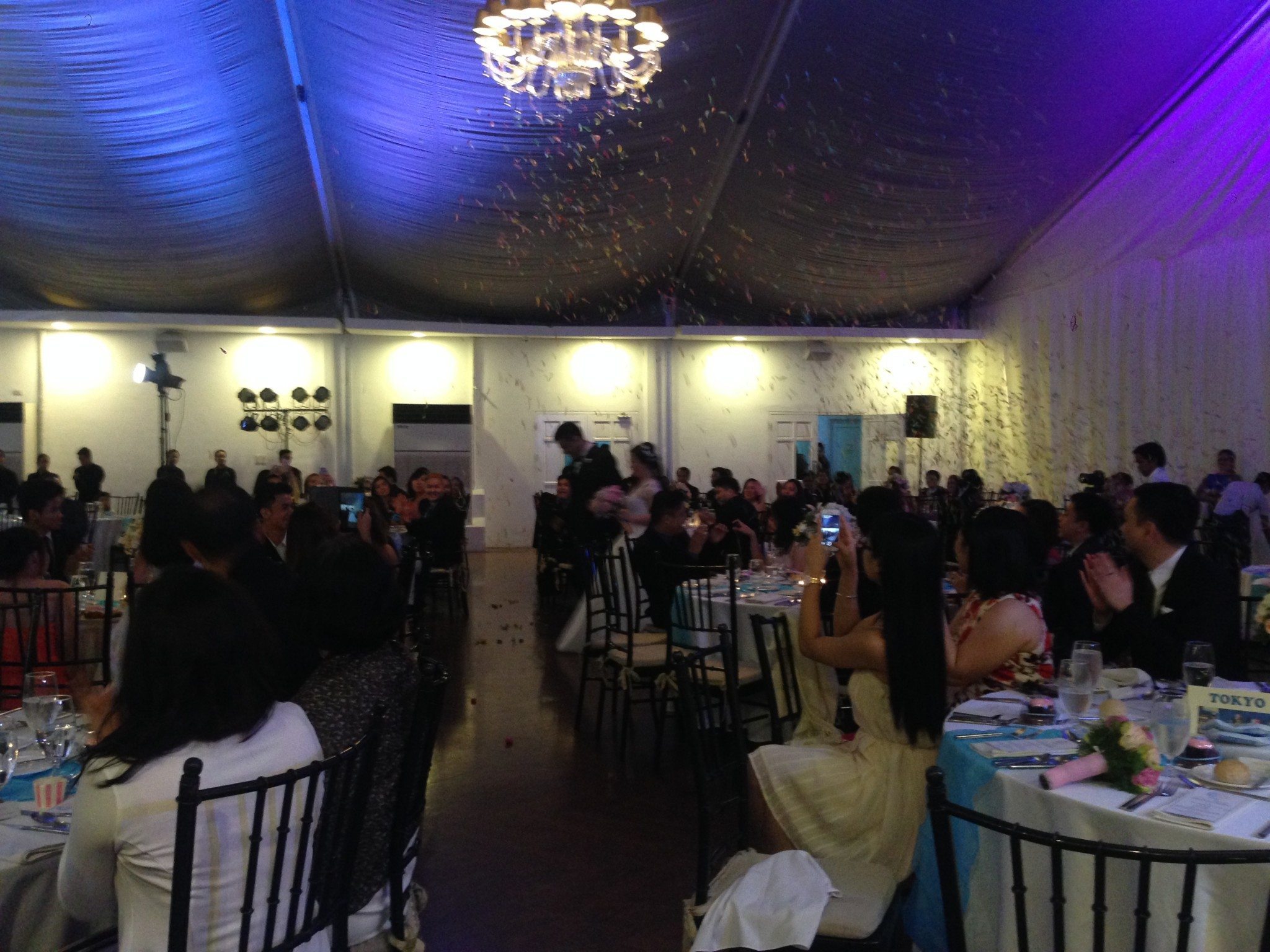 Dinner time na ng guests. Coord team chika time. Checking if all suppliers are fed na.
Dinner time na ng guests. Coord team chika time. Checking if all suppliers are fed na.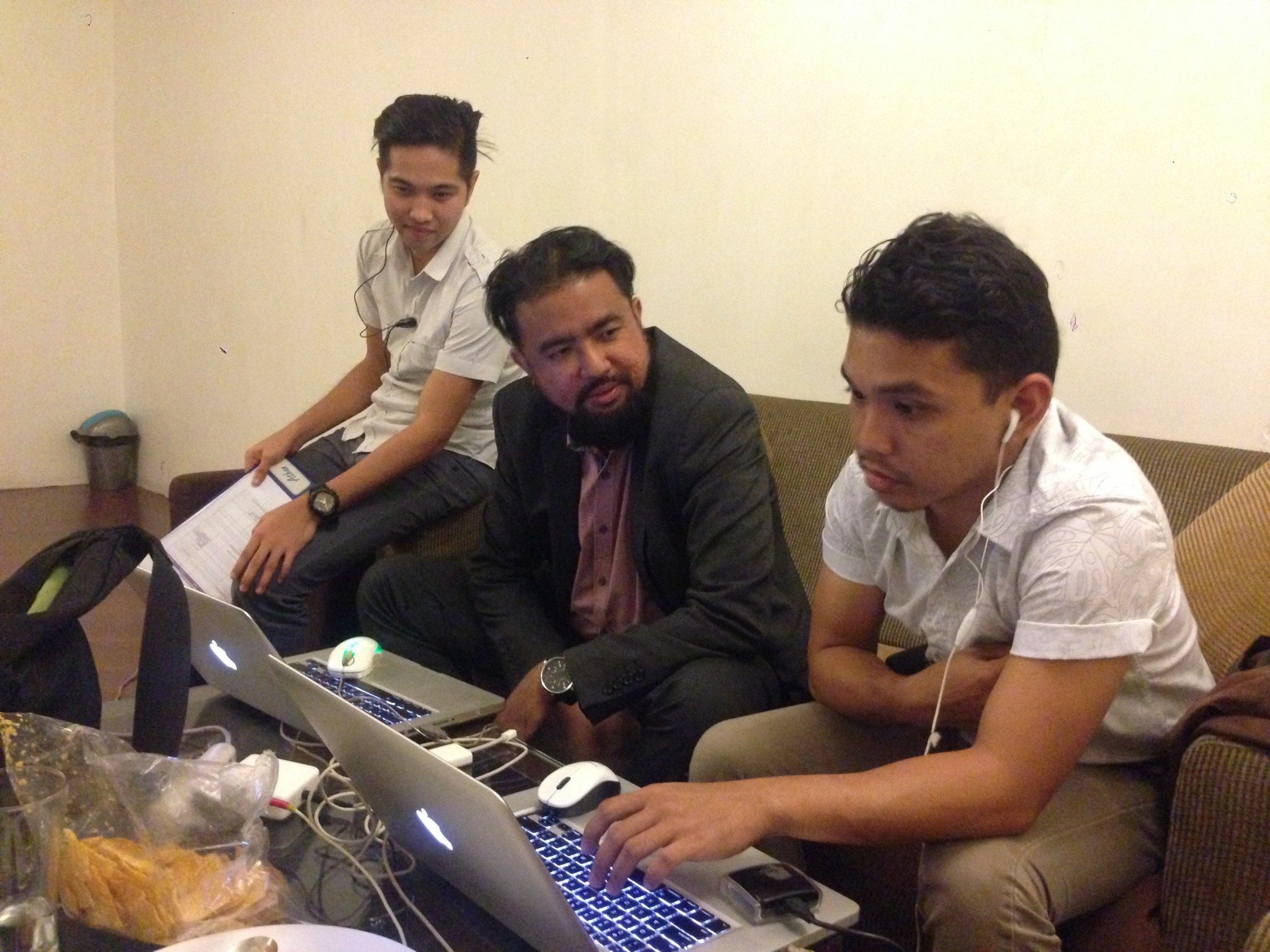 That time has come… coord asking "Ilang minutes pa po?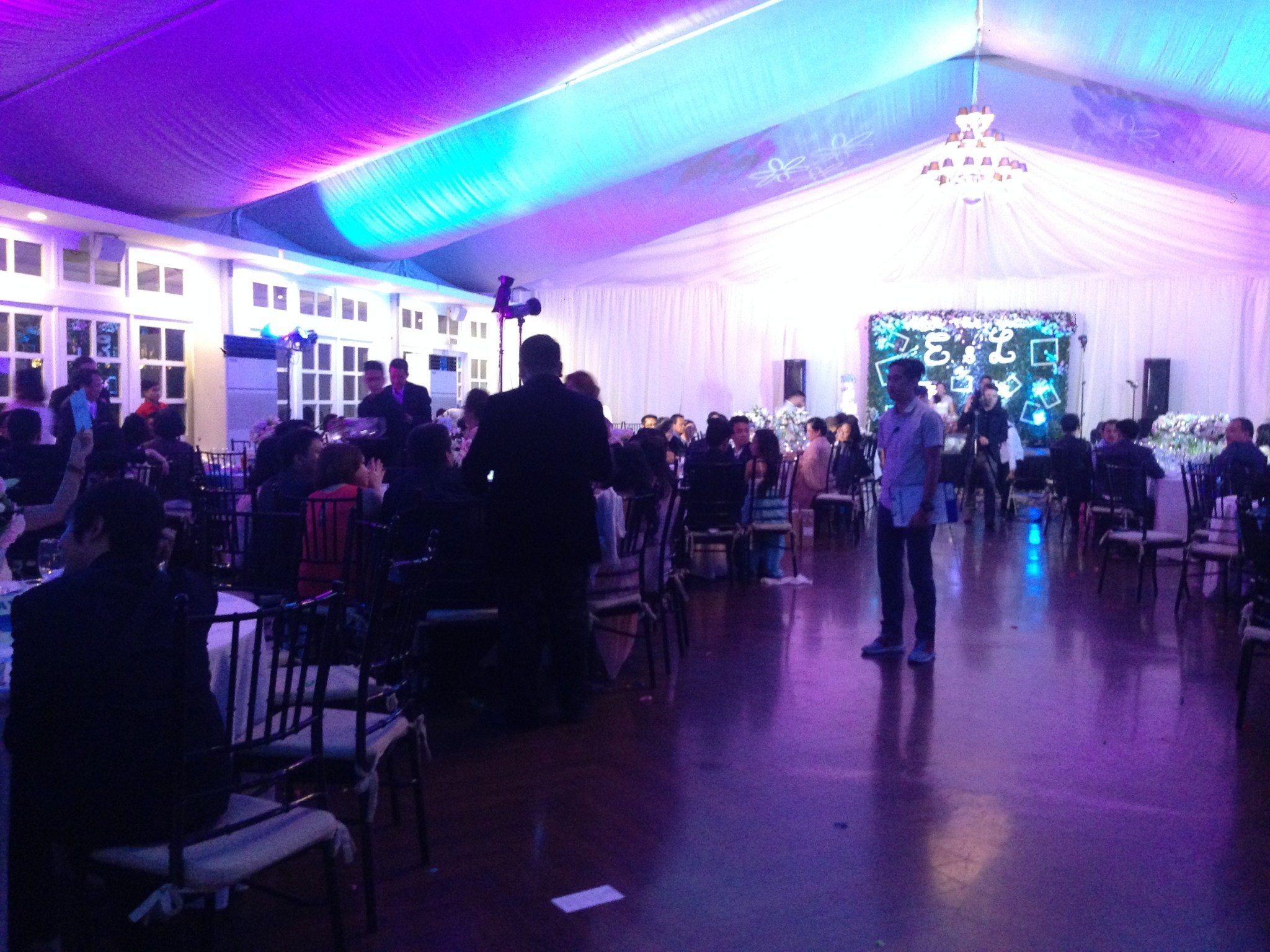 In cases when coord & photo/video are not friends, this stage should be handled delicately – respectful, firm and not annoying nor condescending, no hierarchy, all equal ang suppliers; and photog/videog should in turn simply answer truthfully.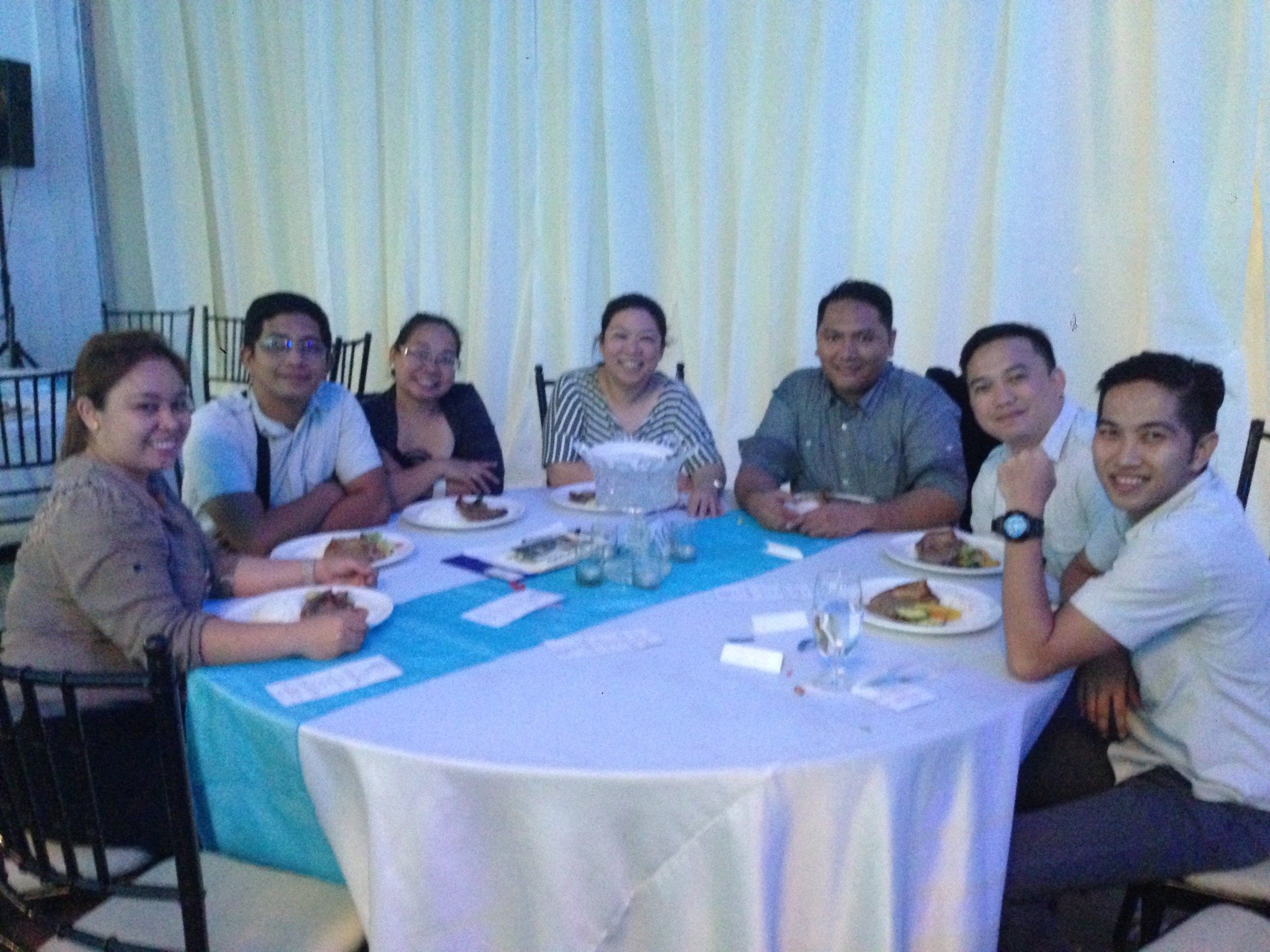 Wedding today a success! Now the most awaited part ng coord… kainan time. Later na turnover.
Events by Thoffy Team:
Atan, Dandy, Thoffy, me, Ate Tess, Leo & Lai
Ate at the hotel around 10:30am, some got to eat before reception (Ate Tess & Lai didnt) then ito na next meal at 8:30pm.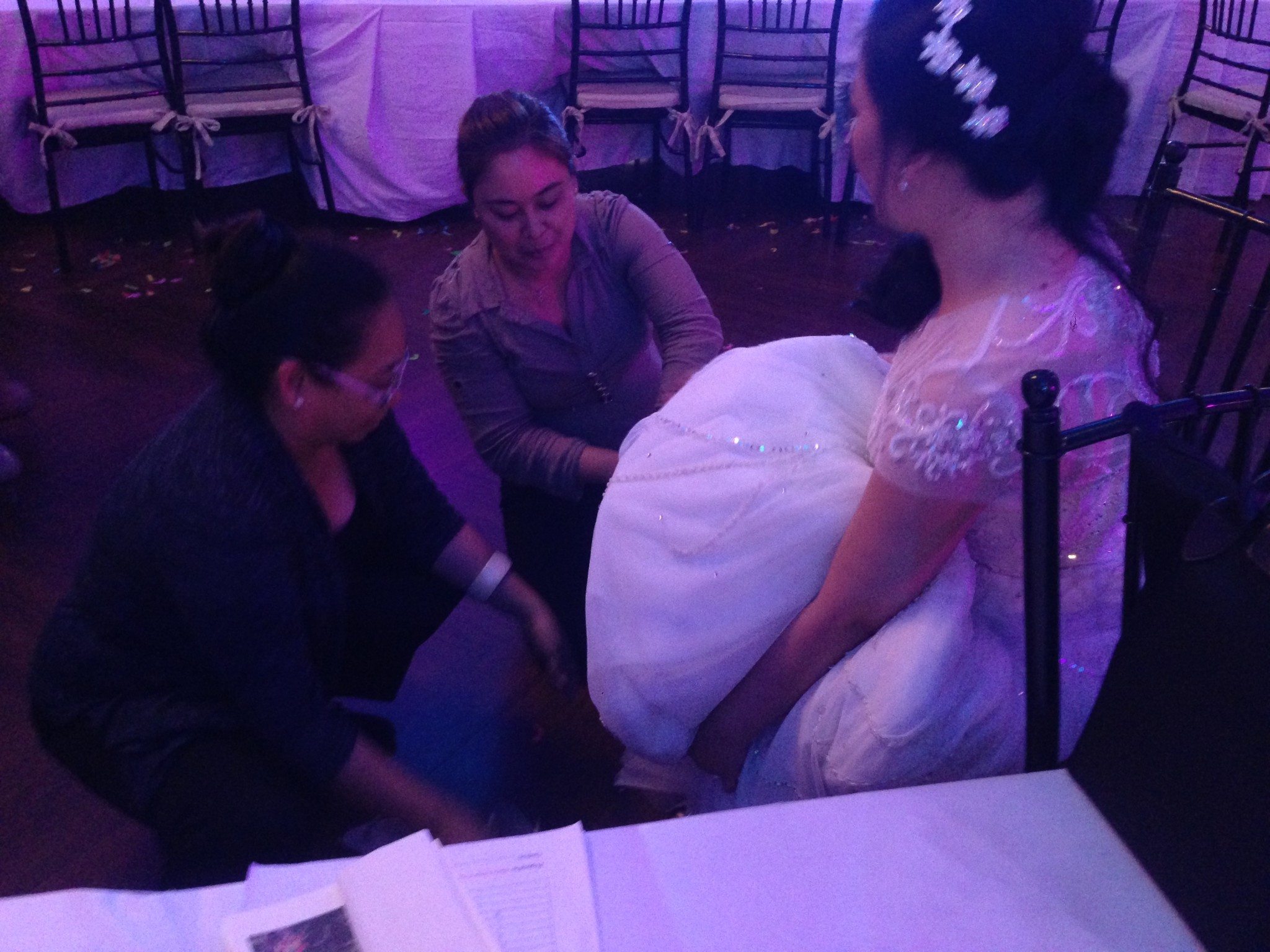 Ate Tess ready with flats and the turnover listahan– all the things to be turned over nasa isang lugar na iendorse sa family namag-uuwi since couple will go to hotel pa or whoever can take care of them.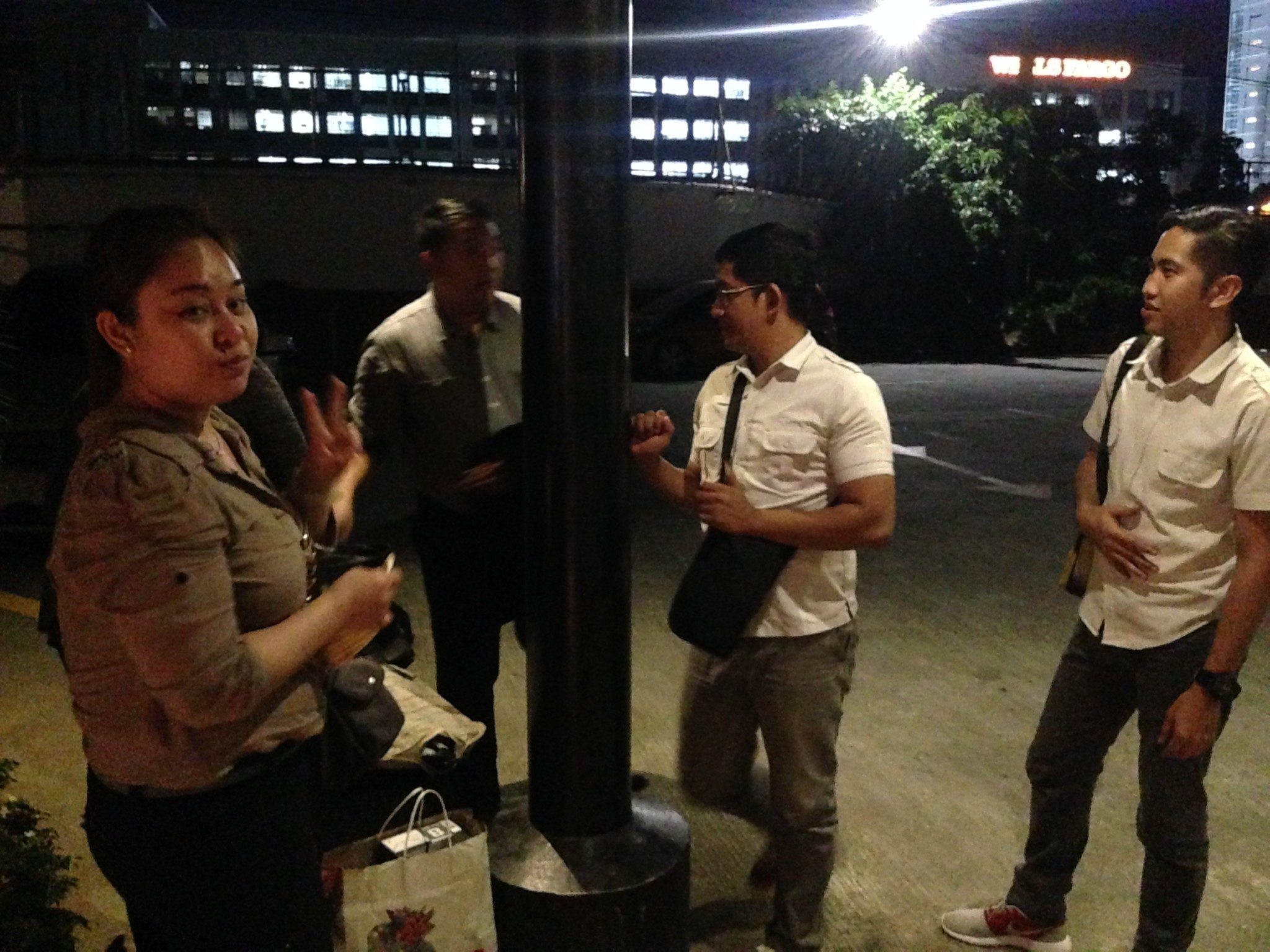 Pauwi na. Group left at 6:30am. On the way home at 9pm.
May TF kaya ako?

Thank You Ealden & Lhiza! It has been a great learning day for me.
Am happy the suppliers line up were mostly my friends, it made a huge difference.
Actually, it was the suppliers list that made me do it.
Coordinator: Events by Thoffy
Gown: Boy Kastner Santos
Photo: Jayson & Jo Anne Arquiza
Video: 4:30 Films
Prep Place: Ascott BGC
Church: Don Bosco Church
Reception: Enderun
Flowers: Serge Igonia
Make Up: Muriel Vega Perez
L&S: Rejectkrew
Projector: Metrotech Projector
Musician: Manila String Machine
Crew Meal: Charie Cuisia