From Mimma Benz: I love the behind the scenes, the story behind, how the plan was made and how it was executed. When I saw Atom's proposal photos posted online, I knew I wanted the inside bits, the how, the who and the whats. So, I asked Atom to share with us his proposal "kwento" and thankfully he obliged. Congratulations Atom & Carissa! Wishing you the very best!
Here's the "kwento" in Atom's words.
All girls like flowers. No doubt about that. But my girlfriend Carissa's appreciation for flowers is different. She just really, really loves them. She'll take photos of colorful flowers, whether big or small, and it always puts a smile on her face.
So I thought that the best place to propose would be in a field of flowers. Started planning in January of this year. But after searching for a beautiful field of flowers in Tagaytay, and all the way in Baguio, and even in Atok, Benguet, I found none that matched what I was looking for.
So I went for Plan B. I decided to put a "field" of flowers at the upper lobby of The Peninsula. Why Peninsula: Because it is very significant to the two of us. My fiancée worked at the Pen for 8 years and she loved her stay there. As for me, I have always loved the Pen, because of its lobby, the warmth of the Pen team and staff, plus most of my favorite weddings were held there. And that's where we had our first kiss. Hehe =)
Suppliers tapped:
Coordinator: Chinkie Uy
Flowers: Dra. Nikki Chatto
Photo: Pat Dy
Video: Jason Magbanua
Musicians: Pen Strings and 3rd Ave.
So I chose June 8, as it is our anniversary. It gave us a reason to have dinner at The Pen, and a reason to be dressed up.
The story:
Upon entering Pen, we were supposed to "accidentally" run into Chinkie (who is dressed in her coordinator outfit, complete with belt bag). After pleasantries, we were supposed to say it's our anniv while she was to say that she had a wedding at The Conservatory. She was supposed to invite us to go upstairs to check out "her client's amazing setup at the upper lobby". We were to tell her that we'll go after our dinner.All this time, my family, her family, and our friends were to have cocktails upstairs while waiting for us to finish.
This was when we were having dinner in Spices. I was texting with Chinkie to inform her of the status of our dinner. Pat and Jason had cameras hidden behind the counter of the waiters and behind a plant. Haha I was super nervous of course. Couldn't concentrate so much on dinner. But I had to keep it cool.
After dinner and on our way out of Spices, I nonchalantly asked Carissa, "So are we going up to Chinkie's wedding?" She said ok then we went up.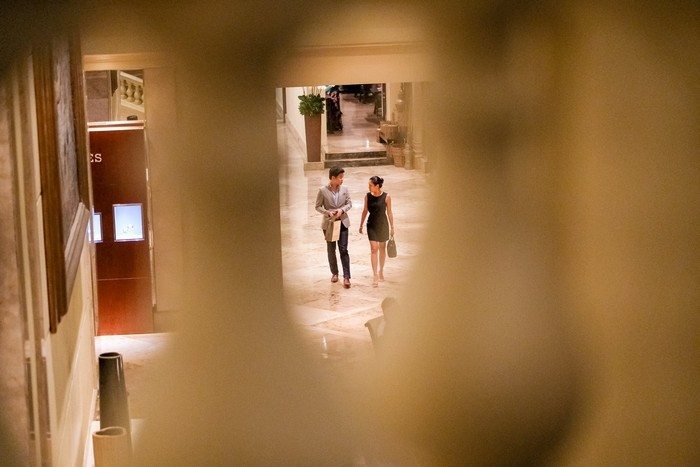 This was us walking from Spices to the upper lobby. I could feel my knees shaking and my legs were numb. Haha.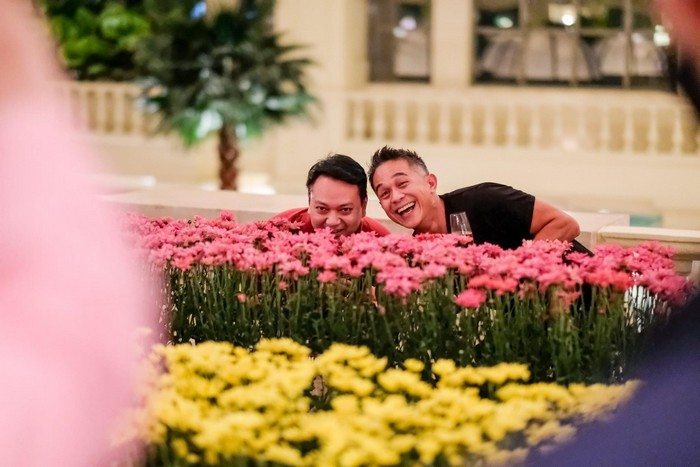 My friends Will and Ging goofing around before we arrived at the upper lobby.
As soon as we reached the upper lobby, she saw the flowers and as expected, she was wowed by them. But of course at this time, she knew it was the flowers for Chinkie's wedding. Then 3rd Ave and The Pen Strings began to sing "Cheerleader", again a song significant to us because we started hearing the song when we started dating, and also coz when I checked the lyrics, it was simply perfect for the occasion.
From Mimma Benz: I couldn't help it. I'm too "usisera". I had to ask Carissa too! How she felt and what was going thru her head.
Carissa: I was getting disoriented when he was "leading" me to the spot in front of the flowers. I felt like I was invading the "set up", 'yun pala yung set up was for me. He even said, "all of this is for you babe!"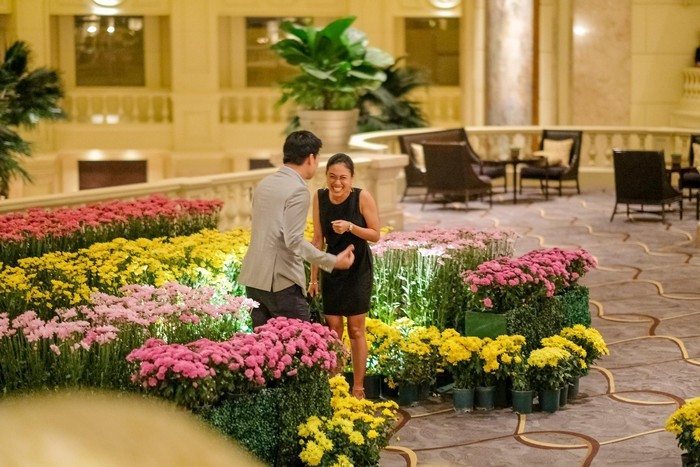 This was when we just got there. She was wondering why 3rd Ave was there. And this was when I told her that the whole setup was for her.
Carissa: Sa sobrang wala akong alam sa mangyayari I was screaming, LITERALLY! Tapos akala ko masusuka ako kasi diba we just had dinner… tapos end of the night engaged na pala ako. OMG grabe. Sobrang SAYA ko! I did not have any clue Benz wala talaga. I thought that we were going to celebrate our anniversary with a dinner then maybe drinks after or dessert cos that's what he said, that he had dessert plans after dinner.
The lyrics of the bridge:
You give me love and affection
Baby did I mention
You're the only one for me
And I don't need a next one
My mama loves you too
She thinks I made the right selection – At this point my mom and family comes out
(I think your mama likes me too) – This is not part of the lyrics, but I added it in and this was the cue for her mom and family to come out; and our friends to come out after.
Now all that's left to do is just for me to pop the question. And this was where I knelt down and presented her the ring.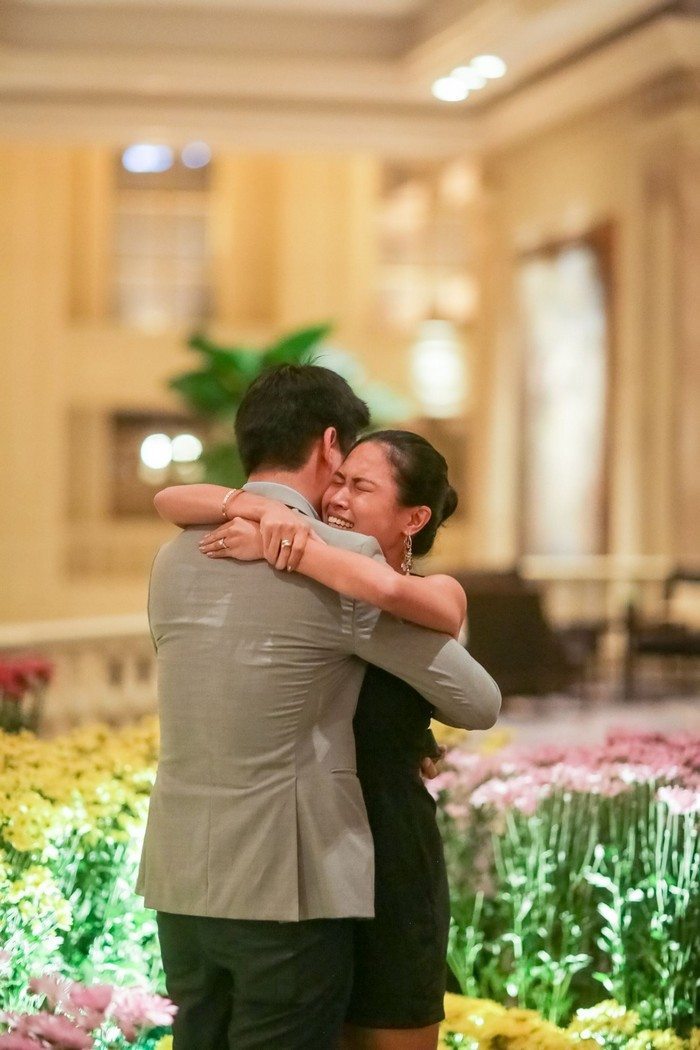 This was right after she said yes.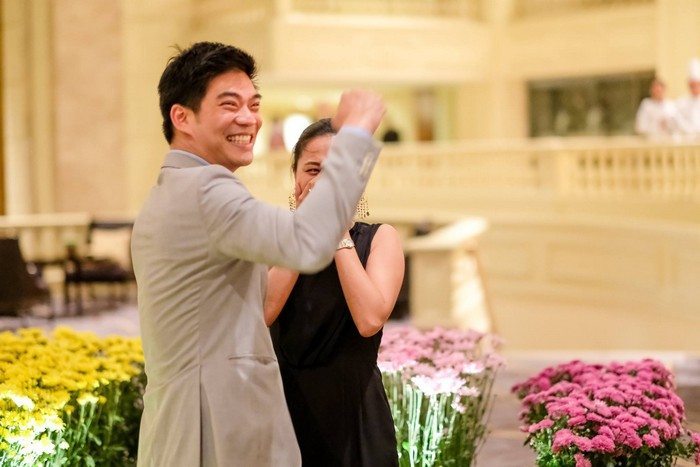 The crowd couldn't hear her so I turned to them and said "She said yes!"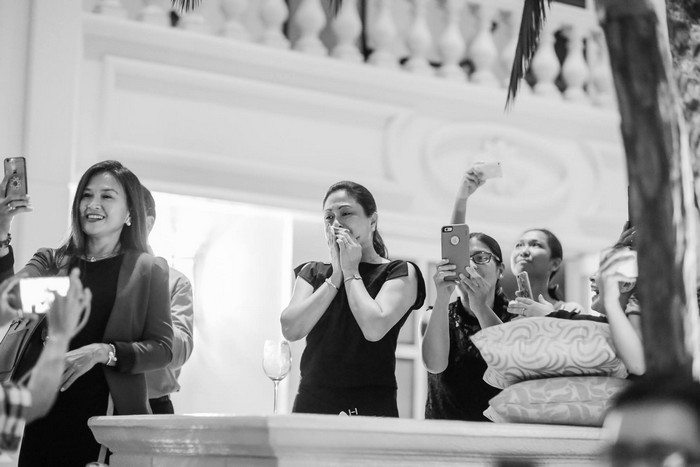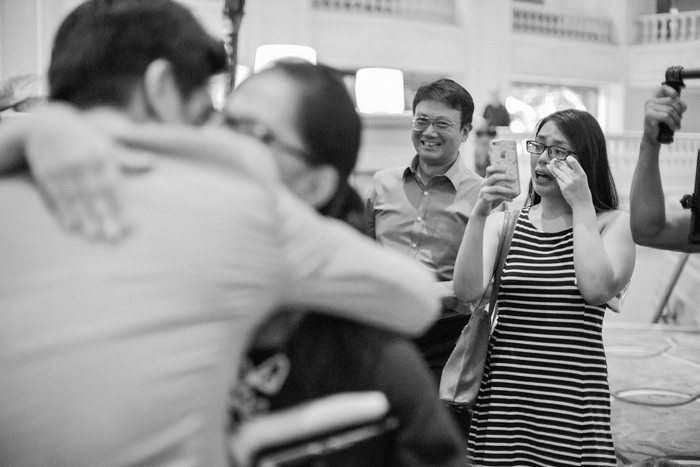 Hugging my mom. With my sister crying in the background.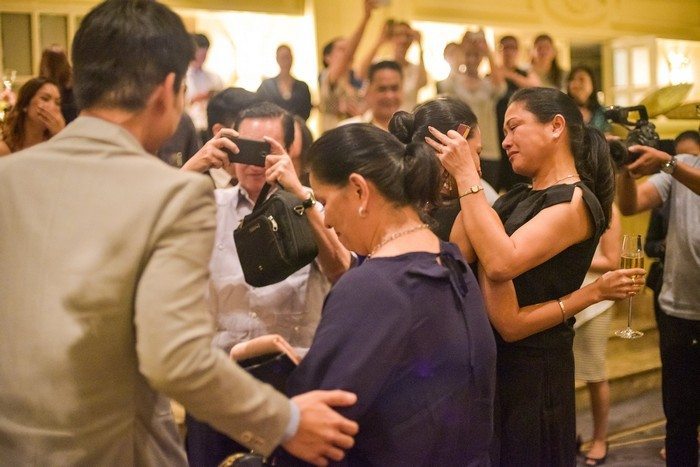 Me and Carissa with our moms.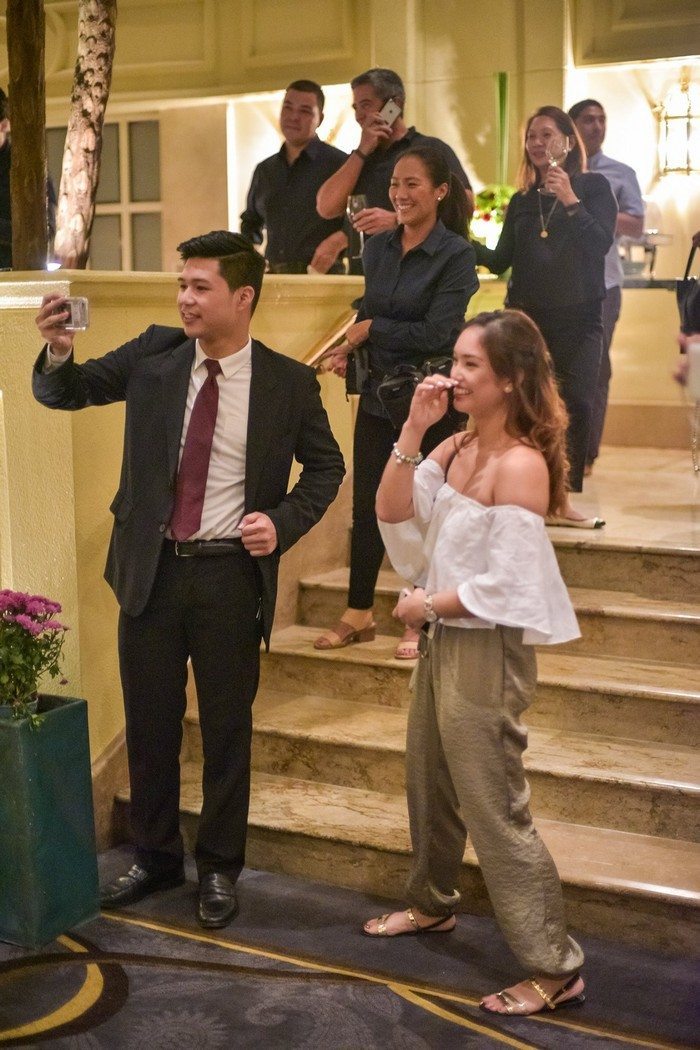 Chinkie and her beltbag. Lol!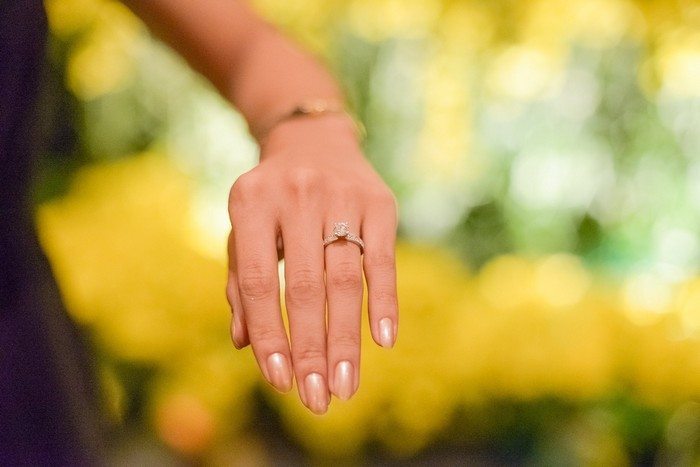 The ring.
Photo Credits: Pat Dy
See more of Atom and Carissa's proposal here and check out the proposal video from Jason Magbanua below.