There was a time when the thought of gray as a wedding color was unheard of. Having a dull color for such a happy occasion doesn't fit. Fast forward to today when gray and all its shades have become on trend. It has enjoyed blockbuster success on the fashion scene because despite its seemingly bland color, gray is actually versatile.
Gray has shades, perhaps even more than 50. Let us mention a few. There's charcoal gray, a shade standing on the darker spectrum. Then there's ash gray, one of its coveted shades, a whisper above white mixed with the right proportion of dark gray resulting in a powdery hue. Then we have dove gray, the tint that evokes romance. Then there's slate, appealing to the masculine and modern. There are more shades of gray to play with. That is why it makes for an interesting choice for weddings. So cast all shades of doubt for gray aside because versatile gray is here to stay! In fact, here at Color Play we will mix and match different colors to counter the dreary reputation of gray.
GRAY AND YELLOW
That pop of happy color stands out against the charcoal gray like a ray of sunshine, doesn't it? Perfect counterpoint to each other: a low-key, dark base color and a bright splash of color. With blooms like the graceful yellow calla lilies, you can bring in the elegance and style against flowing gray chiffon dresses that billow in the wind. Elegant and happy all in one theme.
You don't need to stay with gray for your gowns. You can complement the fabric choices with your other color but you must choose shades that are complement each other. Like in the case of yellow which is a tricky color to wear. Not everyone can carry it well as a dress. The secret lies in choosing the perfect hue to match the wearer while balancing the gray of the other dresses. A creamy ultra-light yellow hue is a shade that practically anyone can wear. As it already borders on the neutral, your girlfriends should be able to own that shade. A pastel neutral against a gray neutral definitely harmonizes with one another. For the brighter shade of yellow, let the blooms carry the vibe. Against the cream yellow or the dove gray, yellow flowers always bring the cheery finish.

Even the men can join in the yellow splash of color with gray without having to fear the feminine hue. Gray will be their main color while the subtle drop of yellow brings out their gentle nature.
And for the bride, who can say no to these sigh-worthy yellow bouquets sprinkled with the right elements to bring in dreamy gray notes. Yellow ranunculus and roses bundled with silver brunia berries and dusty millers complete the gray and yellow ensemble.
GRAY AND CORAL
For those who prefer a more feminine contrast to gray, coral may just be the color for you. Not as bold as orange and a shade more unique than pink, coral brings out the classy girly vibe, distinctive but not loud. On the bride's bouquet, peach and coral ranunculus against peach roses, punctuated with dusty millers and silver brunias and just the right amount of white create that dreamy bouquet. For the girls on the entourage, the stylish gowns in gray chiffon will make the perfect match for these tasteful sprinkles of coral.
With gray as their default color, the groom and his posse will definitely not mind wearing this soft shade. In fact, they just might even embrace this color as it puts them several notches up on the "gentle + man" scale.
GRAY AND WHITE
Then there are those who will not allow any other hue to take the attention away from gray. With white as the only other color, this theme will turn any wedding into a completely exquisite masterpiece. The simplicity of this palette evokes a refinement that few can own. It's like a great paradox of style – subtle with flair.
What color can bring out the elegance of gray than a color that understands it? White is the absolute match if you want gray to take center stage. What's more, the subtlety of gray and white allows the beauty of the bride and her gal pals to shine without interruption. After all, hasn't it been said that true beauty comes with simplicity?
Even the men will agree; they who stand dapper and dashing in their clean, constructed gray suits with just the right amount of softness via the white boutonnieres. Handsome has never been this immaculate.
So whenever the liking for gray strikes you as you plan your wedding, you can quell all fears of color blandness. Different shades of gray when matched with the perfect pop of color spell excitement, style and impeccable taste.
Image Source: Pinterest 
Read more of Tisha Rosales' Color Play articles at www.weddingsatwork.com/category/color-play/.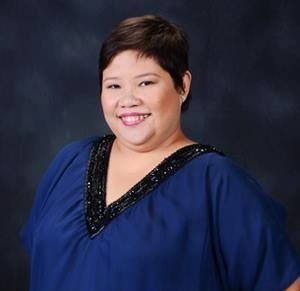 About WaW Color Play Columnist Tisha Rosales: Tisha is a Meta-Coach, events professional, freelance writer and candle artisan of Balay Kandila. She's also mom to 3 boys.
In between projects, she blogs on www.thoughtscribbler.com.