(Note: Read Bridal Blurbs: Learning and Musings from Our Wedding, Part 1)
My mom woke me up at 6:30 AM. I had time to take a bath and eat a very hearty meal, thank goodness for breakfast buffets!
The very first supplier to arrive was my HMUA team. I was still having breakfast when she called, and it was just 30 minutes before the 8:00 AM call time. After breakfast, we went upstairs to my room and set up the make-up stations for the female entourage. I have already changed to my blue romper, and everything was happening in a blur. We started primping up at 8:30 AM, and just in time, my lovely coordinator arrived, then my florist, who came with my beautiful tulip-and-rose bouquet. My room was abuzz with people coming in for styling, taking footage and photos, so I sat back and just enjoyed the moment. After all, I have properly turned over our things to our very efficient and reliable coordination team.
Come lunch time, we ordered food from the fast food chain just across the hotel. My bridal assistant handled it well, from coordinating its entry to distributing it to my family. However, there were miscommunications with the fast food crew because the hotline ordered our food from another branch far from the hotel; and by the time the delivery guy arrived, the hotel security did not allow him in. We were only able to eat about two hours before we leave.
Because we were running out of time, my bridal assistant gave me her lunch pack. It was similar to what I ordered anyway so I ate. All flat surfaces were being used by the HMUA team so some of my female entourage propped up the ironing board for me so I can eat lunch. Bawal ang maarte!
At this time, I have no idea what is happening in the groom's suit a few floors down, but one of his groomsmen's fiancée posted a photo on our barkada group about one of the male entourage's ripped pants. Thankfully, another one of the groomsmen's wife-to-be has mad sewing skills, so yay for that!
After lunch, my couturier and bridal manager helped me with my gown. Ah, this is it! My documentations team took photos and videos thereafter, with my female entourage, and with each people that brought me gifts from my then-fiancé and a note that he cannot wait to see me. Aww. I also had a moment with each of my family members, and had photos taken with them.
And it was time to leave. Dun dun duuuun.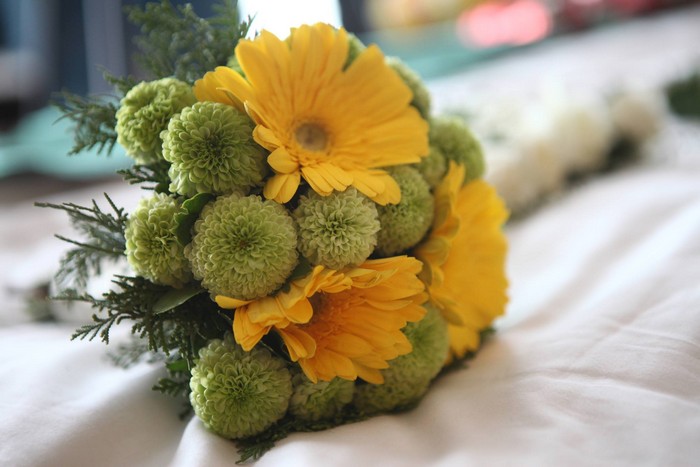 I was told that the groom's party already left for church so we prepared to leave. I rode the bridal car with my sister, niece, and my bridal manager. We were all just laughing and taking Instagram stories on the way to church, while I complain how hot and heavy my gown was. Tiis-ganda! Oh well. Few more hours left until I take it off.
We arrive fifteen minutes before our set time. I was left with my funny bridal car driver and bridal manager, and we were poking fun at how tiring the day was, even if we haven't started the main event yet. I impatiently sat in my bridal car, naka-de-kwatro na sa inip. Ten minutes left. How could time suddenly slow down, I thought.
I see one of my suppliers furiously walking towards the church entrance. I asked, why the face? And the he said something, to which I said, "Relax lang!" He laughed at the irony, saying that he should be the one telling me that. When I closed the window, my driver told me the same thing, and that I was the first relaxed bride he ever encountered. Hindi niya alam na inip na inip na ako.
Alas, my bridal manager asked me to alight the vehicle. My photo-video team instructed me to get off the vehicle slowly, with finesse, at least for the photos, and smile. Ooookay. Pagod na ako ngumiti, to be honest, pero kaya pa, besh.
While my bridal manager briefed me with what to do, the P/V team snapping shots, with the Canon in D in the background. My chest was pounding. I then whispered to my bridal manager:
"Teh, painom."
She hands me my bottle of water, and I sip through the straw. A moment after:
"Teh, yung tumbler?"
It was THE tumbler. The tumbler that holds all the magic, the strength to keep it together. Well, it was a vodka-spiked ice-cold peach juice, okaaay.
And a few moments after sipping almost half of the tumbler, my bridal manager instructed me to look down. The doors creaked open. Here we go.
I saw the altar. Familiar faces. My parents waiting for me midway to the aisle. A few camera phones capturing the moment, yet careful not to steal the show. I see our friends and family happy-crying.
As I got closer to my parents, my mom was already crying, my dad smiling. I laughed and joined them. Oh, boy, so this is it, right?
And then I see my groom crying. He must be as overwhelmed as me. A lump of air blocked my throat, but I caught it fast and swallowed it, and let out a nervous chuckle. Thank you, vodka!
I kissed my parents, and my dad handed his youngest daughter to the boy she met 12 years ago and loved "illegally" for three months until she cannot hide it anymore, despite the parents' prodding to not get into a relationship until after college. I also took a moment to hug my groom's parents, as a way of showing my gratitude for raising the man I prayed for, dreamed of, and I wished on New Year's Day of 2004, five months before meeting my future husband.
I did not cry, but my groom did. I said my vows with my voice breaking up at one point, but still managed to keep it together. My groom said an impromptu vow, shedding some more happy tears. Everything happened so fast, but we made sure we remember most of it. We sang the communion song with the choir, recalling how we said many years before getting married that we will use that song on our wedding day. We sealed our union with a kiss. It was a happy day.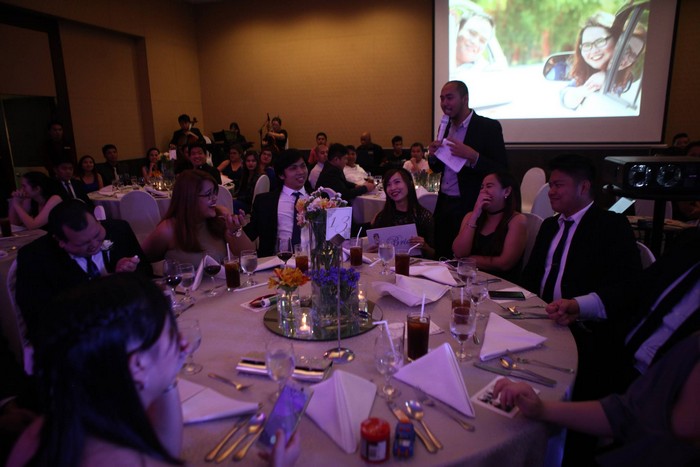 And our reception? Oh, we had tons of fun, especially because I already changed to my lace sneakers to get ready for our grand entrance as Mr. and Mrs. All our bellies our full and so are our hearts. Seeing people who matter in our lives in one room is enough for our hearts to swell.
I guess the main takeaway from our wedding is that we thought of what my husband and I think we can enjoy with our guests, like we know that it is okay to veer away from the usual, like we didn't have a dove release because kawawa naman the birds, or a tall cake because the price is too exuberant for us, and we thought it would be practical to have a 12-inch square carrot cake decked with lots of fruits so that we can also share it with our families and friend after the wedding. For the wedding programme, most people think that couple games are already passé, so we had games per table that had almost everyone compete with each other. Also, having two brilliant stand-up comedians perform their sets and team up with the best wedding coordinator-slash-wedding host brought the house down. And the food. The foooood! Even until now, our guests are still raving about our sumptuous spread, that I now realize that taking time to discuss with the banquet for details and taking the food tasting seriously makes a whole lot of difference.
I would also like to emphasize on getting a reliable wedding coordinator. We had THE BEST team! Save for some minor glitches during our hotel preps, which is beyond our control already, they ran our weddings very smoothly, and they barely bothered us for questions. This is why it's so important to nit-pick every detail with your coordinator every face-to-face meeting, and to turn over COMPLETE and DETAILED deliverables before the set deadline so both parties may still have room to discuss and clarify. We enjoyed our wedding, the company of our guests, and the good food because our OTD coordinator took charge well and good, and even beyond our expectations.
Looking back now, my husband and I are proud that we did most things right during our wedding, and it warms our heart knowing that family and friends still remembers how they enjoyed our very special day.